11 Reasons Why Search Engine Optimization (SEO) is like the Game of Golf
By Chad H. Pollitt   Internet Marketing Manager
Internet Marketing Expert

Digital Hill Multimedia, Inc.  

Why SEO is Like Golf
1.  Miniature golf, Par 3 courses, 18 hole golf courses – The keyword phrase you're going after determines what type of course you're playing on.  Coming up number one on Google for the phrase "New York" would be like playing in the Masters at Augusta National Golf Club and winning.  However, going after the phrase "Ligonier grocery stores 24 hours" is like playing on your favorite miniature golf course, quick and easy.
2.  A perfect game is impossible – Nobody can hit 18 hole-in-ones in a row.  But, just like golf, in SEO you just have to play better than the your competitors to win.  In SEO, your competitors are the organic links on the first page of Google.
3.  Teeing off, Short Game, Putting.  A good 300 yard drive reminds me of a website launched with its on-page SEO factors carefully crafted with keywords put in all of the right places.  That's exactly how you want to start a round.  However, you still can lose if you don't pay attention to your short game (off-page factors) or putting (programming).
4.  Sand Traps – Sometimes good SEO and internet marketing professionals accidently get websites caught up in bad keyword neighborhoods, link farms or even red flagged by Google.  This is a result of losing focus and being sloppy.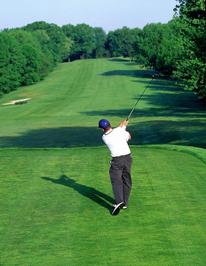 5.  Mulligans, Blackhat, Cheating – SEO is no different than golf:  People cheat.  If they get caught Google will throw them out of the SERPs.  Golfers get tossed from the tour.
6.  Golf Equipment, Instruction – Ever try to shop for golf equipment online?  There's thousands of items available for sale that allow you to play the game or improve your game.  SEO and internet marketing is no different.
7.  There's no guaranteed winner – Nobody can guarantee results in SEO just like nobody is guaranteed to win in golf.  However, some people and companies can have a pretty good record of SERP placement over time.  If you're going to invest, invest in a solid track record.  I usually bet on Tiger Woods.
8.  Keyword Research, Mental Game – How often do you hear that golf is a mental game?  Even the best players in the world can have a poor round if their head isn't in it.  I've seen lots of SEO professionals do everything right in SEO, but fail because they chose the wrong keywords to go after.  Doing good keyword research and preparation for SEO and internet marketing is like having your "mind in the game" in golf.
9.  Getting good takes time – Nobody steps on a golf course for the first time and plays like a pro.  SEO is no different.  Depending on the keyword you're working on, it could take 12 or more months to see first page placement in Google.  Patience is a requirement in the SEO business.
10.  Basketball is a sport, but it's not golf – Don't expect your web designer or IT programmer to get your website to the top of the SERPs.  SEO is a completely different sport.  Nobody would expect Charles Barkley to beat Vijay Singh in a tournament.
11.  Golf Carts, Cigars and Beer – What do these have to do with SEO?  Not much, but believe it or not, SEO professionals are not a bunch of computer geeks that don't like to have fun.  If you don't believe me, attend a search conference or internet marketing after party. . .