4 Tips to Boost Facebook Page Effectiveness
So you've got a Facebook Page (formerly known as Fan Pages), and you've got some fans…now what??
The key is regular (not too much, not too little) communication and particularly communication that engages your fans because engagement invites conversation and dialogue, (i.e. further discussion and relationship building!)   As well, engagement also means exponential exposure as those who comment/respond have their comments posted to their news feed and then their friends see this and may engage as well!
Remember the average Facebook user has about 155 friends. So do the math…if you have 200 fans and get 10 to engage on a wall post you make, each of their 155 friends may see their post in their News Feed and you have the potential to reach 10 x 155, or 1550 more people with your post!
Now, let's get on to the 4 tips.
Tip #1 -Use the Wall !

By far and away the most used feature on Facebook is the News Feed.  Users check their News Feed to find out what is happening among their friends and "Liked" pages!
So, if you want to create brand awareness, do some "drip marketing", and engage users, you must use your Facebook Page Wall because this publishes to the News Feed of those who "Like" your page!  As well, the most useful Facebook (Fan) Page Apps, like Facebook TabSite (shameless plug of our tool!) are Apps that ultimately publish to your wall so that it gets published to the News Feed of fans.  For example, TabSite offers the option when you save a page update to "Save and Publish to Wall?" This is a key feature that you must not overlook!
Tip #2 – Ask for a "Like"
Don't just post a statement, rather frame it in a way that invites a response.
We've been doing some coaching and social media work for a restaurant and they recently extended their hours of being open.  So on their fan page we coached them to go back to their fans about 2 weeks after the change had been made and ask for some feedback via a "'Like ask'".  Something on the order of, "So what do you think of our new extended hours?  Give us a "Like" if you approve!"  This is a simple, non-threatening, easy to fulfill question and the results were impressive, an increase of 5x the response rate and 3x the rate of comments left!  So don't overlook the "Like"!  It's a key feature in building engagement and extending your message out broader. You may even consider a strategy to buy Facebook page likes to boost engagement.
Tip #3 – Encourage Comments by Asking for Input
So often we revert to talking and forget that social media is about listening and the dialogue, not just pushing out information.  The best Facebook Pages offer some information and then end with a question such as, "So, what do you think about this?" or "Do you agree or not?"  As well, be creative, asking the same type of question frequently bores people!  Mix it up!  One time you might use, "Any thoughts on this?", while the next time you ask for specific feedback.
Tip #4 – Add Apps that allow you to Expand Content and Customize a Landing Page

Facebook Pages come with some standard Tabs from Facebook including the Wall, Info, Photos, Discussions, and Video.  By default, Facebook sets your Wall as the default tab that visitors come to. However, you can change the default landing Tab that new visitors see when they come to your Page and by adding a App allowing you to have a custom Tab, you can set your Page apart as unique, different, and engaging!  This is critical as the number of Facebook Pages grow exponentially each year.  So make sure you are using a custom Tab (see TabSite for ideas!) and set yourself apart!  See an example of a custom landing Tab on a Facebook Page by a client of ours, Explore Media. (Click to go to their Page).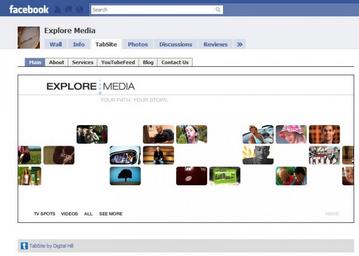 Like what you've read?  Give us a "Like" and stay tuned for more Internet Marketing tips!
Post by Mike Gingerich, Internet Marketing Consultant
Digital Hill Multimedia