5 Ways Authors can Use Facebook to Market Books
This post was originally published at www.tabsite.com.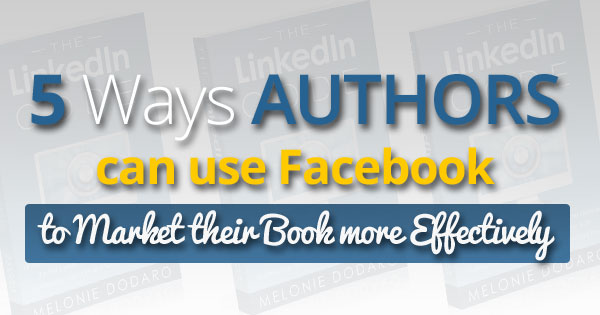 Over the last 7 years, Facebook has become the dominant online social network, with everyone from teens to grandparents participating.  They share updates and photos, join groups and spend significant time on the network interacting. With users being so active and with every major buying demographic on, Facebook is an excellent marketplace for personalities to reach their audience.
It's a perfect place to connect with current fans, build new supporters and an inexpensive or even free way to boost sales. You may not be author so don't leave just yet!  The principles apply and you can get ideas from viewing the author examples! Learn how to use Facebook to market books and more!
5 Facebook Strategies for Authors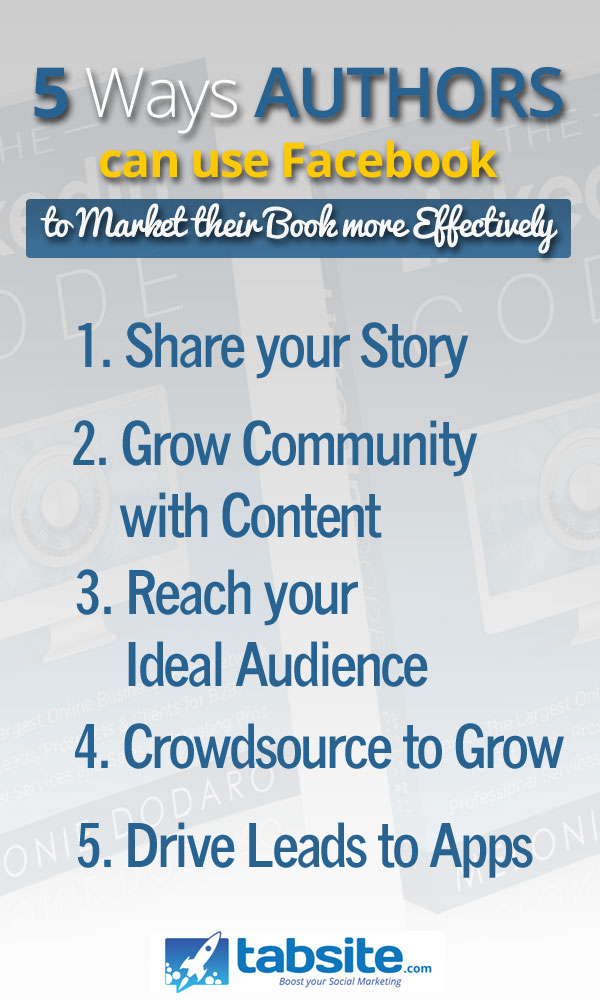 1. Share Your Story
Creating an "author" Facebook Page separate from your personal account can keep your literary world apart from your "regular" Facebook profile. This is a first and most basic business move to help yourself as an author. Your author/book page, which can be accessible by anyone, includes more biographical information like your background, published items and where the book can be found online.  It can even include your upcoming book signing events. Top selling fiction author Sidney Sheldon's page, for instance, offers pictures and links to his newer books and series plus different places to find him online.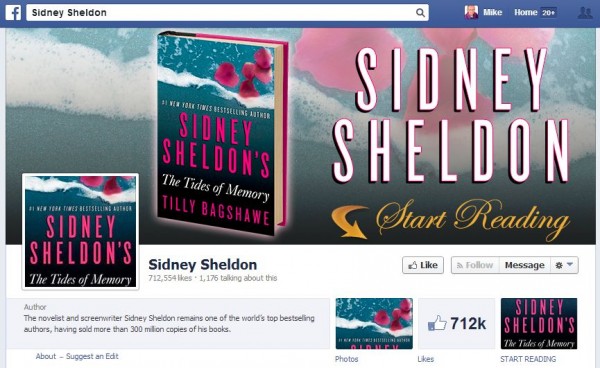 This lets interested visitors go right to your official page. Plus, personal pages only allow 5,000 friends, but there's no limit to author pages.
2. Grow Community with Content
Facebook is NOT a "If you build it, they will come" once and done tool! You must be committed to being active and regularly sharing on your Page! Because of Facebook's algorithm, the more you post, the more you'll start showing up on the streams of your fan's pages. Likewise, if you only post once or twice a month, you're far less likely to be seen unless people check your page occasionally on their own.  The great posting masters at PostPlanner note that far too often pages post LESS than is helpful for their community. By posting regularly, like 3-6x per day, an author can increase the conversation opportunities and by doing this they increase the potential to reach friends of those engaging,  a win-win scenario! Here's 8 great tips on Facebook posting strategy from the guys at PostPlanner  to consider.
3. Reach your ideal Audience
Social researchers say only about 10-20 percent of your posts get seen by all your fans – it's a complex formula that Facebook created to try and give users content they think is most relevant to them based on past interactions. So, one way to ensure you get your message out there is by using Facebook Ads. You can "Boost" individual posts or promoting your page, which means paying money to expand your reach. In the big picture, the price tag is usually small, maybe $10-$20 to get key posts the exposure you need, according to Authority Publishing.  Facebook's demographic info also lets you choose which age group, gender and locations can see your boosted/promoted messages. This is the KEY! Target your ideal audience specifically.  Don't go general and large in your targeting.  Aim for reaching 5,000-8,000 people max who are your ideal people.
4. Crowdsource to Grow Engaged Connections
Another great way to build loyalty and a stronger bond with your fans is to crowdsource your needs.  This is great because it gets your community involved!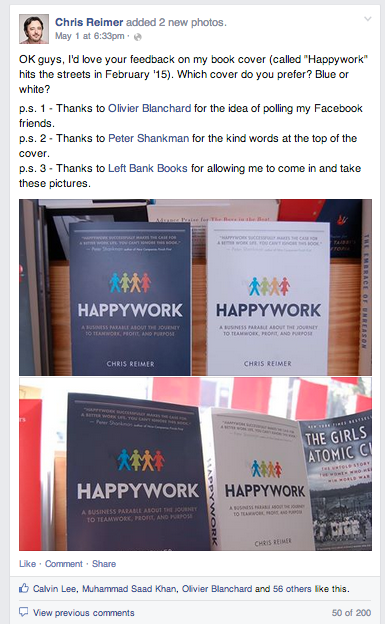 For example, posting possible book covers and having fans give feedback on the colors and style is an awesome and inviting way to crowdsource valuable feedback and also to gain the ownership of your community. If they have had the chance to give input and be heard, (particularly if you respond to comments on the post!) then there is more awareness and readiness for them to purchase when the book comes out. Crowdsource ideas:  Book covers, titles, Signing locations, launch ideas
5. Drive Leads to Apps for Sales
Along with promoting yourself as an expert in writing, you also want to get your fan base excited about your current and next projects, so it can be a great ongoing story to chronicle the whole literary process from early drafts to where they can buy the finished product. Maybe offer opportunities for your fans to read a sneak peek of a chapter prior to publication, or maybe even a chance to win a signed copy. Editionguard, designed for e-book publishers, suggests putting up photos as well, but also blending "here's my book – buy it!" posts with less promotional posts. Here's a example of an author that offers a sales page for current and coming books on her Facebook page.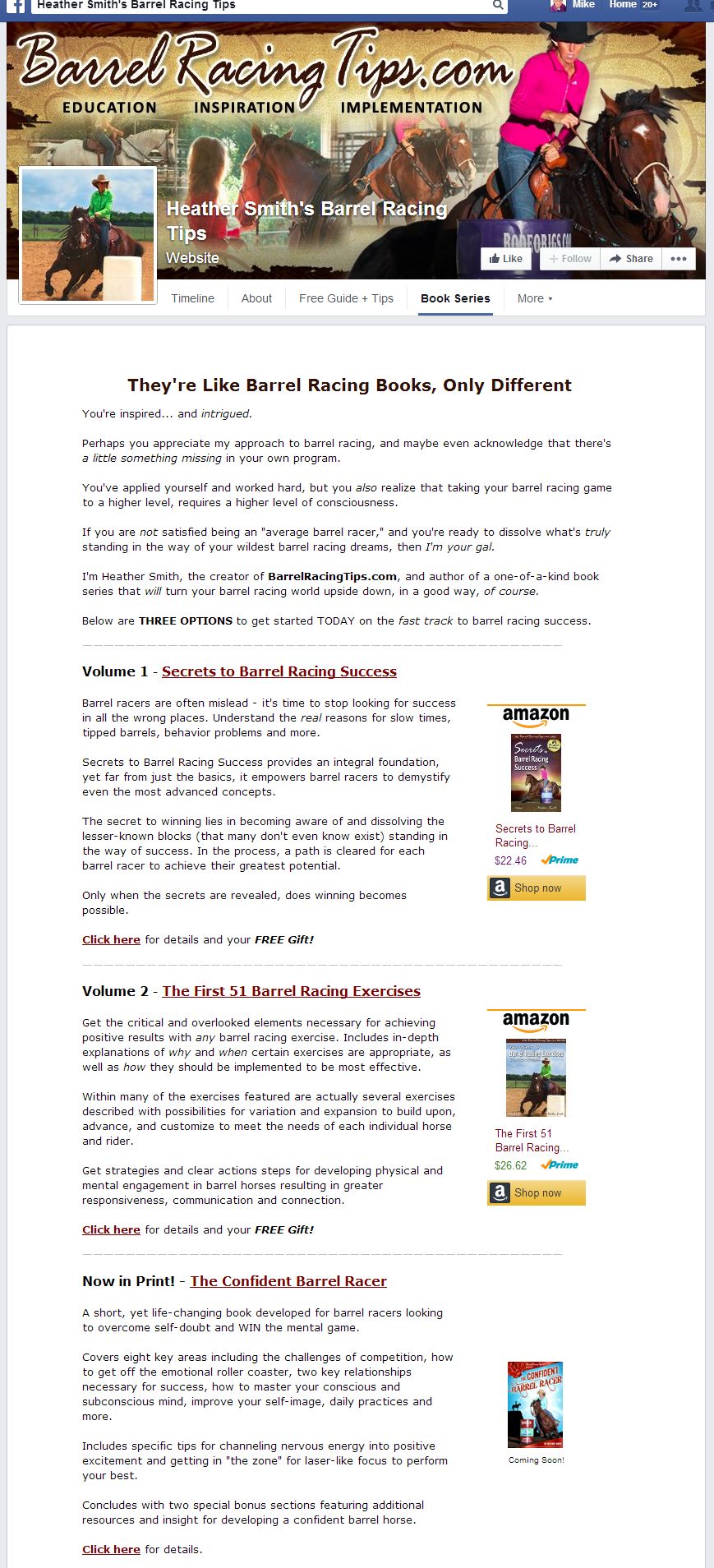 Simple apps like TabSite offer ability to create these landing pages for Facebook and the web. That's a wrap on 5 ways authors can use Facebook for marketing. Use these Facebook marketing strategies for authors to take your marketing to the next level. The ideas could help you attract more followers & stay engaged with your fans to ultimately help you sell more copies of your book. Now it's your turn… Any questions or ideas you would add to this list?