Targeting Local Search with Geo-Targeted Microsites for SEO
By Chad H. Pollitt Internet Marketing Manager
Internet Marketing Expert

Digital Hill Multimedia, Inc.  

Geo-Targeted Microsites and SEO


The great thing about the "Internets" and Internet Marketing is that you can be as creative as you would like with your strategy to grow brand awareness, customer loyalty, sales and leads.  As long as you stay within the accepted (white-hat) rules of SEO, web design conventions and track your campaigns you will be able to measure your success (or lack thereof).

As our populace grows more comfortable and gains experience with utilizing search engines their queries are becoming more and more sophisticated.  SEO and internet marketing professionals are keenly aware of this.  Long-tail search phrases or phrases that contain a geo-location (area, city, county, state, region) are becoming more and more prevalent.  Because of this, businesses that offer products and services in multiple cities are faced with the challenge of getting their website to come up for geo-specific keyword searches utilizing SEO.

Trying to optimize a website to come up in search for multiple locations utilizing SEO is difficult to do, even with a robust geo-targeted landing page strategy.  This is because your website, on the whole, will be oversaturated with city names.  When Google spiders your site it may become confused as to what location is the most important to rank you for.  Should you have a competitor in one of the cities you wish to rank for that is only in that city and they have an optimized website, they will more than likely come up higher in the SERPs (Search Engine Results Page) than you.  What's the best strategy to overcome this challenge?  Geo-Targeted Microsites.

Rather than optimizing one main website to come up for multiple geo-specific searches consider building several mini or micro-sites with unique URLs targeted for specific local search queries in your internet marketing campaign.  If it's done on the right technology platform and optimized properly it can be affordable and highly effective.  The affordability comes from recycling the webdesign across your microsites.  This methodology will increase your company's SOV (share of voice), leads and ultimately sales.  It's also a strategy that I have successfully deployed and tracked over the last 16 months while reaping the benefits of the hundreds of leads the strategy has provided.  Below are the search engine results achieved by deploying highly optimized geo-targeted microsites.
Geo-Targeted Keyword Phrase:  Fort Wayne Web Design
Strategy:  Microsite and SEO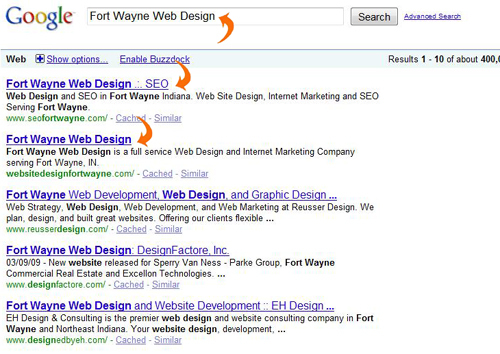 Geo-Targeted Keyword Phrase:  Indianapolis Web Design
Strategy:  Microsite and SEO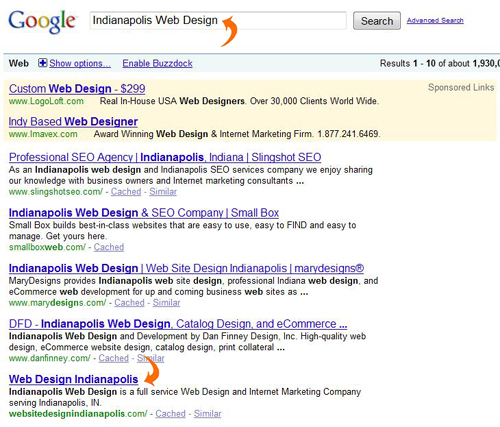 Geo-Targeted Keyword Phrase:  Warsaw Web Design
Strategy:  Microsite and SEO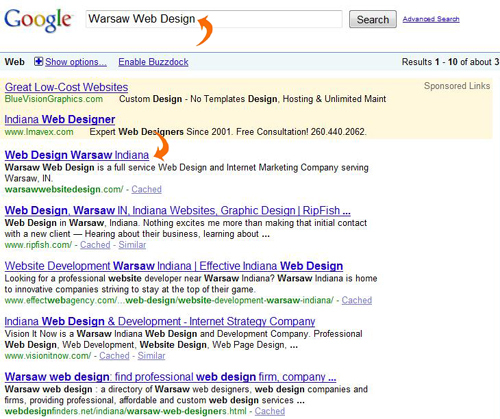 Geo-Targeted Keyword Phrase:  Elkhart Web Design
Strategy:  Microsite and SEO