Add a Background Image to Your Facebook Fan Page With TabSite

                    TABSITE JUST DOESN'T QUIT!

Since TabSite 2.0 was released this past January we've added the ability to create Multiple Top-Level Tabs, kept up with Facebook becoming iFrame compatible, along with adding the ability to Customize Page Tab Icons and designate Fan/Non-Fan Content (sometimes called FanGating).
Now TabSite has made it possible for Silver and Gold Level Members to add a Background Image to their Facebook Fan Page.
And, like all of TabSite's features for Facebook, we've kept it simple.
Just click the pencil on the sub-page you wish to add a background image to, and then chose "Setup Sub-page Background Image" from the drop-down box.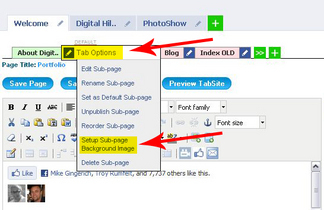 Click "Yes" to enable your background image, select a Position, select a Repeat option, upload an image or choose a background color, and then click "Update Background Image."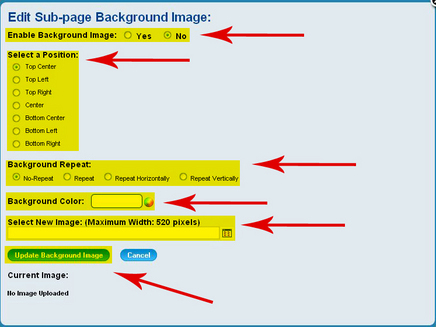 When choosing a color, either enter the color # or click on the color wheel.
Upgrade your TabSite membership level to either Silver or Gold to take advantage of our new Background Image feature. If you have a Facebook Fan Page, but haven't signed up for TabSite… what are you waiting for? TabSite is the easiest way to customize your Facebook Fan Page. Sign up NOW!
No More Static FBML, NO PROBLEM! TabSite is all iframes!