AmREIT Launches New Website by Digital Hill
Press Release
AmREIT ~ Digital Hill ~ Website ~ Web Design ~ Texas ~ Rotating Image Area

AmREIT, based out of Houston, Texas, is a 28-year-old equity real estate investment trust. Their focus is on the ownership, management, and redevelopment of neighborhood and community shopping centers and mixed-use properties. For more information visit www.AmREIT.com.
The new AmREIT website has a feature unique to any other web design created by Digital Hill… Property Pages. Through the intuitive Content Management System, AmREIT has the ability to ad, delete, and reorganize Property Pages. Each page has a map to the property location, downloadable documentation, a rotating image area, and video. This Texas based website also has a sophisticated blog area where each individual blog entry has its own rotating image area and can be tagged by keywords for quick viewer reference. The beautiful aesthetics of the AmREIT website is astounding. Combined with built-in SEO tools, this Texas website is sure to list high in search results to capture the interest of potential real estate investors.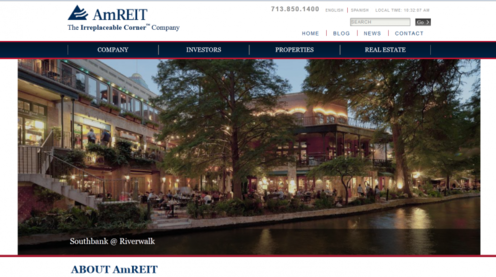 The new web design for AmREIT is a welcome addition to Digital Hill's portfolio of Texas website clients. For over 14 years, Digital Hill Multimedia, Inc. has specialized in Web Design, eCommerce, SEO, Web Hosting, Social Media, 3-D Animation, Application Development, Internet Marketing and Promotion Strategies in Texas, Northern Indiana, and throughout the country.
Visit www.digitalhill.com or call 888-537-0703.
AmREIT ~ Digital Hill ~ Website ~ Web Design ~ Texas ~ Rotating Image Area