Apps to Help You Rock the Social Scene in 2016!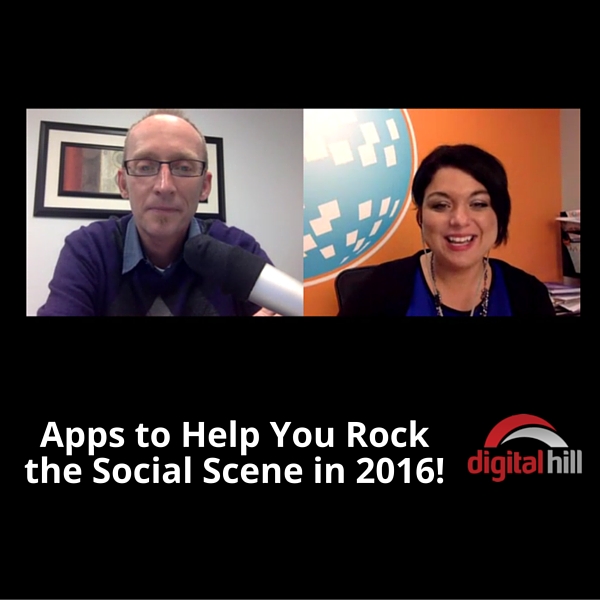 My blab with Jessica Phillips of Now Marketing was all about apps!  Apps are one of my favorite topics and this blab was no exception.  Apps can help you market efficiently, provide quick support to potential and existing customers via social media, and help you save time and money in various ways.
It's an app world from mobile to desktop, and we break down some of the best and how we use them so you can learn and get a jumpstart on these tools that can help your business.
I've broken the list up by purpose or website..
Twitter Apps
Apps to help you with Twitter functions.
Twitter Feed — Sends your blog to Twitter, Facebook, LinkedIn, and more  with your RSS feed.
Twubs — Register your Hashtags with Twitter.
Tweet JukeBox — Stores tweets that you add to it, then tweets them over time. When it runs out of tweets it starts all over again.
Commun.it — An easy way to drive traffic, increase fan engagement, grow followers/likes, and save time.
Instagram
WordSwag — Add text to your photos and make custom quote images easily on your mobile phone.
Flipagram — Create Instagram videos from your photos and add music all via your smartphone.
Repost — Reposts your favorite Instagram videos and images and gives credit to the owner of the image or video. Similar to retweeting.
Aviary — Edit and share your photos.
Instavid — Make a video with your Instagram images or use the app to shoot a video. Customize your video's in the app.
Facebook Apps
Canva — Design high quality, professional, custom images for any platform.
visme — Create professional presentations, and beautiful infographics.
TabSite — Easy contest management for Facebook + Landing pages. This is our flagship Facebook marketing app that we built and manage.
Scoreboard Social — Create reports and analyze your Facebook data.
Pages — The Facebook Pages app for mobile lets you manage up to 50 pages on your phone or tablet.
Linkedin
Pulse — This is the LinkedIn Publishing platform. Create blogs and curate content for Linkedin to get in front of your connections.
SlideShare — Create presentations, and add them to your LinkedIn profile. Owned by LinkedIn.
YouTube
GoAnimate — Create professional animated videos for your business yourself.
Audiojungle — Find royalty free audios for your videos.
Premiumbeat — Royalty-free music and sound effects.
Musicbed — Music for films and videos!
Video Apps
Triller — Pick a song from the library and create your very own music video.
Splice — Create music, collaborate with others, and share it to the world.
BombBomb — Record and send videos to Gmail, Outlook and Salesforce. Track if they were opened and watched. Great sales tool!
Scheduling/Monitoring
PostPlanner — Curate and plan Facebook and Twitter posts.
SproutSocial — A complete social media management tool that posts, schedules and monitors.
AgoraPulse — Manage social media messages for Facebook, Twitter, and Instagram. Get analytic and stat reports.
Here's the full blab with Jessica and me. Enjoy!
Remember to join Jessica and me live on Blab every Tuesday afternoon at 4pm for Magnet Marketer Blab live online.