Basic eCommerce Website Launch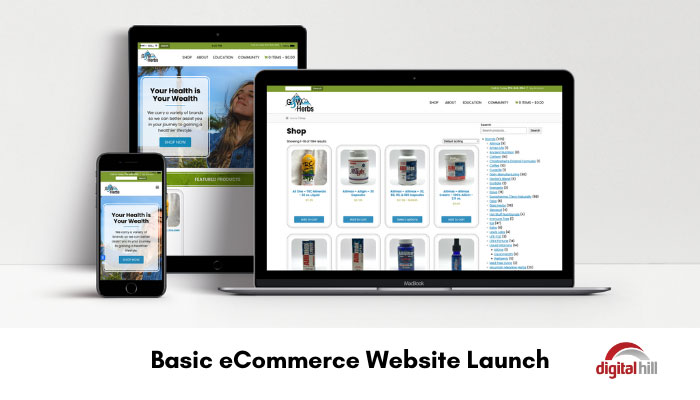 All businesses operating in the modern era understand the importance of having an effective website. A website allows your business to generate leads, increase exposure, and build a brand that is recognizable online and off. G&W Herbs owner Gerald wanted an online platform where he could sell his health products and build a community. The Digital Hill team delivered an easy-to-find, fast-loading, and recognizable eCommerce website to meet his needs. Learn more below.
Design
The overall design of the G&W Herbs website is visually appealing without being overwhelming. Featuring light colors with pops of green and blue makes navigation easy for all visitors. Navigation is smooth, simple, and focused, with quick links to each important page. All resources and pages are available above the fold with a simple click of a button. Finally, due to the simple layout, the G&W Herbs website loads quickly on all devices.
Yoast SEO Integration
Having an eCommerce website is only beneficial if potential customers can find it easily. Yoast SEO is the highest-ranked WordPress plugin for search engine optimization (SEO). By using this plugin, the Digital Hill team can generate substantial traffic from Google and other search engines. Yoast allows for easy optimization, giving each webpage a rating, and offering suggestions to improve search engine rankings. Each page has specific keywords, key phrases, and a meta description using popular search terms. These details help improve the credibility of G&W Herbs while making it easier to find on search engines.
WooCommerce Integration
By utilizing WooCommerce, visitors to the G&W Herbs website can easily purchase any item they find interesting. Furthermore, payments are made easy as WooCommerce supports over 100 different payment options from credit card to bank transfer. This makes it easy for businesses to select options for their customers. At the click of a button G&W Herbs also have access to a range of features in the back end, including refunds, order management, direct email options, and more. This allows the team to respond to sales and queries in a timely manner.
Adding new products is also simple, and is accessible in just a few clicks. The G&W Herbs team can simply fill in the necessary details, add a price, select the category, and click publish.
Reviews
Online reviews are a critical part of business success in the digital era. In fact, 93% of people are influenced by reviews before making a purchase. The G&W Herbs website features a review option for every product, allowing customers to easily leave a review or read current reviews. This helps to build trust and social proof as more customers purchase online.
The new G&W Herbs eCommerce website is not just optimized for search engines but is also designed to maximize conversions. The simple, effective layout makes it incredibly easy to navigate, even if users are on a mobile device.
A business website is a non-negotiable in the current era. Do you have a modern business website? Contact us today to discuss a refresh or brand-new website.