Be Found Online: Increase Your Web Footprint

December 14, 2009 – Post by Mike Gingerich, Internet Marketing Consultant with Digital Hill Multimedia
Not too long ago the focus of Internet marketing and search engine optimization was to get your website listed as close to the top of the page 1 search engine results for key terms related to your business/product as possible.  All efforts were put into getting that one website to appear in the first page results.  Google typically lists 10 results on the first page (often called 'the Google 10') and so the goal of Internet Marketing and SEO was to appear in that top ten, and more specifically in the top 1-4 positions.
While it hasn't changed that you want your website to appear on the first page of search results for your key

product or service, what has changed is the fact that no longer should you just aim to have only your website appear in those results.  Now with the explosion of social media like Facebook, LinkedIn, Twitter, and other Internet marketing options, you don't have to merely aim to have your website appear on that first page, but you can work to have your company / website appear multiple times on the first page search engine results.  We call this "Expanding your Web Footprint."
In short, through intentional and strategic Internet marketing work on your website and other online platforms, you can take up "more real estate" online and have your company appear two, three, four, five, or more times in search results for key terms!  Obviously this is advantageous as it helps your company be seen more, increases your website traffic, and it pushes competitor websites off the first page.  Studies show that viewers trust search results more if a company comes up more than one time on the first page of results.  There is a "well, if they come up that much, they must be pretty good" favorable mentality and the odds of them clicking through to your information / website is much greater merely because of the fact that you are now taking up 20, 30, 40, or even 50% of the page 1 search real estate for that term!
Here's a client example: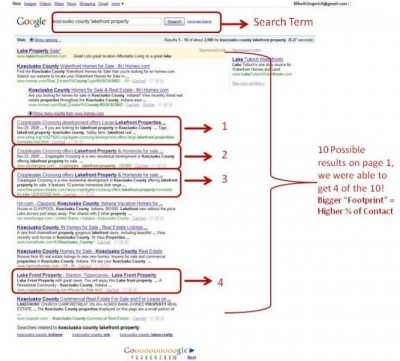 We have been doing a Internet marketing campaign and website project for a client in Northern Indiana who has created a housing development, Cripplegate Crossing, with lakefront homesite land for sale.  They want to sell lots and so we developed a strategy to help them come up in search results for the key term relevant to their offering.  For phase 1 of the Internet marketing plan we are focusing on their location, "Kosciusko County Lakefront Property".   We are using a variety of social media and Internet marketing options in addition to optimizing their website content.
Above are the results.  As you can see, we have been able to move into 4 of the 10 first page results on Google for our term.  Each result goes to a page where they can find out about Cripplegate Crossing and which is either the website or links to their website.  Now that is "increasing the web footprint" for your product!  Future Internet marketing phases will include additional use of YouTube, Facebook, LinkedIn, and other tools to enable us to have staying power and increase our presence where people are spending time. As well, there is a continual need to add new, key-word rich content to their website and ensure that all aspects of their website are optimized.
Stay tuned for future posts which outline free social media tools you can use to increase your website footprint, and other specific tips on Internet marketing that can enhance your presence online.
By the way, if you're interested in Lakefront Property in Kosciusko County, Indiana, visit this website, www.cripplegatecrossing.com, with website design by Digital Hill.
Contact us today to discuss your Internet marketing and website SEO needs.