Best WordPress Social Sharing Plugins for your Business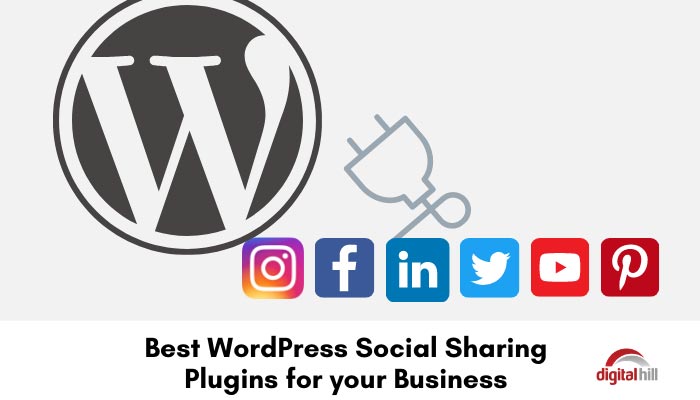 Integrating social sharing buttons into your website is a must. Otherwise, you could be missing out on many potential customers.
Fortunately for sites running on WordPress, such integration is now as easy as installing a social share plugin. Once you download and install the plugin of your choice, the relevant social share buttons are displayed on your website. Thereby allowing users to visit your social channels immediately. This not only lets them share your content with their friends and followers with the click of a button but allows them to gain confidence in the company.
Top 7 WordPress Social Sharing Plugins to Consider
As with all products, social share plugins come in many different designs. How do you select the best WordPress social sharing plugin? The following are seven top options to consider;
1. Social Warfare
Social Warfare has a free and premium paid version. The free version comes with sharing buttons for Facebook, Twitter, Pinterest, LinkedIn, and more. You also get limited placement options, however, we recommend the Pro version as it comes with endless extended features. 

One of the most beneficial features is an optional "pin-it" button for your images. Additional features include drag-and-drop functionality for adding or removing social networks, the ability to add share buttons above or below your content and floating share buttons. The pro version now also supports WhatsApp, Tumblr, and Reddit buttons.
2. Social Snap
Social Snap supports over 30 of the most popular social media networks. This plugin also gives you complete control over the design of your social media buttons. Choose from an unlimited number of button colors, shapes, labels, and sizes. You can even animate your buttons. Placement options are optimized and highly customizable. The best part, though, is that Social Snap allows you to track all shares.
3. Easy Social Share
Easy Social Share is a premium-only social sharing plugin. However, it's also one of the best you can find. Powerful yet flexible, it allows you to adjust features of your social media buttons to match your needs. Additionally, this plugin comes with a widget that you can place in the sidebar. Easy Social Share comes with detailed analytics so you can continue to optimize your social media interactions. Currently, more than 30,000 WordPress sites use the Easy Social Share plugin.
4. ARSocial
ARSocial offers a wide range of features, including social sharing, social locker, and social media fan counting. It supports over 42 different social media networks and allows you to place social buttons in various locations on your site. Additionally, you can optimize placement for mobile devices. Above all, it supports styling options, allowing you to change the design of your buttons as you desire.
5. AddtoAny
One of the simplest social share plugins for WordPress, AddtoAny is a pioneer in the game that supports over 100 social media networks and many placement options. It also supports floating and standard social sharing bars plus a universal sharing menu. AddtoAny displays the social share count and can also be integrated with Google Analytics.
6. Monarch by Elegant Themes
Monarch supports 20+ social media networks and will add and display as many of those networks as you wish. Since placement makes all the difference, this plugin also allows you to select from multiple placement locations on your site. What truly stands out about Monarch, however, is that it supports image sharing, and has an option to automatically add share buttons to every image on your site.
7. Sassy Social Share
Finally, Sassy Social Share supports the majority of social media networks. This plugin allows you to add social media buttons within your content. There is also an optionally sticky floating social media menu that remains visible to your site visitors throughout their browsing session. Although customization options are limited with only three basic icon styles, i.e., rounded, square, and rectangle, it does still support social share counts.
Other Options
Of course, there are many other social sharing plugins for WordPress that you can use. However, the seven listed above are some of the best WordPress social sharing plugins you should consider for your website. We recommend Social Warfare. By using one of these plugins, you can start generating social proof for your business right away.