Beyond Landscaping Launches a New Website by Digital Hill
Beyond Landscaping – Website – Web Design
Photo Gallery – Newsletter Sign-up
Indiana – March 29 ,2011
Beyond Landscaping of Indiana is more than "green-side up" or "mowin' the grass." Landscaping is inspiration. Collaboration. Community.
The new website allows Beyond Landscaping of Indiana to showcase their projects through a photo gallery feature. This addition to the website gives Beyond Landscaping the freedom to add a  gallery description, captions and even set the order of the images in each photo gallery. The website also has a newsletter sign-up. By incorporating a newsletter sign-up into their web design, Beyond Landscaping can keep their Indiana clientele in the loop.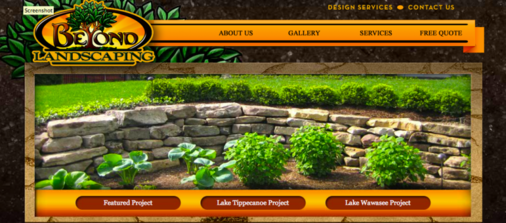 The new web design for Beyond Landscaping is a welcome addition to Digital Hill's portfolio for Milford area website clients. For over 14 years, Digital Hill Multimedia, Inc. has specialized in Web Design, E-commerce, SEO, Web Hosting, Social Media, Flash, 3-D Animation, Application Development, and Internet Marketing and Promotion Strategies in Indiana and throughout the country. They can be contacted at 1-888-537-0703 or www.digitalhill.com.
Visit the BeyondLandscaping.com website.
Digital Hill Multimedia, Inc.
229 S. Main St.
Goshen, Indiana 46526