Facebook Pages vs. Groups: Do You Need Both?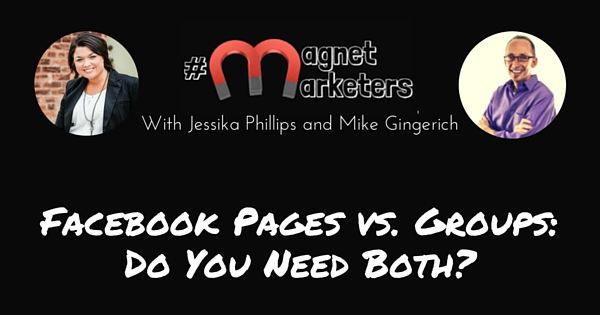 Facebook is an essential ingredient in any social media plan. It lets you promote your business, interact with clients and potential customers while presenting you as an important resource to anyone looking for your products or services.
There are two main ways to promote your business on Facebook.
Facebook Business Page
Facebook Group
What are the differences in a page and group and how do you use each of these features?
Facebook Business Page
With a Facebook Business Page, you'll have an ongoing online presence. Think of it as an extension to your website. It's a way to connect with your customers. Your Facebook posts will show in their newsfeed.
Make sure that your posts are engaging and interesting to your fans. Do not overwhelm them with only business related posts. Give advice; post links to your website and links to other sites that are helpful to your fans. Run contests and competitions. The main use of a Facebook Business Page is to encourage fans to interact with your business and ultimately turn your fans into leads.
Facebook Group
A Facebook Group is a place for like-minded people to meet. Group members can post pictures, comments, ask questions, etc. and respond to posts from other members.
Facebook groups have different levels of privacy. Some are 'public' and open to anyone. Others are 'private' meaning anyone can find the group, but only members can see the posts and interact with them. Some are 'secret'. No one can find these; you have to be invited to join.
Do you need both a Facebook Business Page and a Facebook Group?
This depends on your type of business and what you're trying to achieve. Most businesses could benefit from having a Facebook Business Page. You can add a 'click-to-call' link, promote events, and message your fans. A business page is similar to your personal profile but used to promote your business.
Business pages also have detailed analytics that shows the demographics of your audience by gender, age, region, etc. and your most successful posts. This allows you to improve your social media campaigns.  If you are thinking of adding apps to your business page, take a look at TabSite.
Not all businesses need a Facebook Group. A group is useful for discussions, troubleshooting, sharing ideas, asking and offering advice, etc. You can also promote events. An administrator can remove members who do not comply with the rules.
Both Facebook Business Pages and Facebook Groups offer a way to communicate with your audience. Decide what your goals are and incorporate one or both features into your social media plan.
Remember, you can join Jessika and me live on Blab every Tuesday afternoon at 4pm for Magnet Marketer Blab videocast online.
Here's the full blab with Jessika and me. Enjoy!
Save
Save
Save
Save