Boat Manufacturer offers Consumer Build-a-Boat Customizer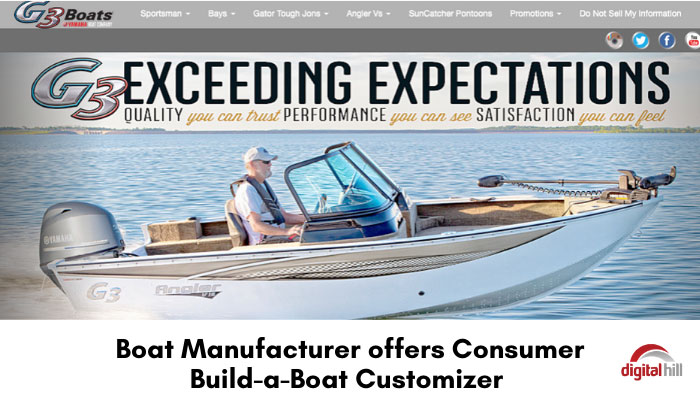 Having a company website is vital for a business looking to grow their sales and brand awareness. More and more people use the web for research and get accustomed to making decisions online. Thus a need to make it easy for customers to learn about and shop for boats in a competitive industry is essential. Like most boat manufacturers, G3 Boats was looking for tools that could empower the consumer to easily research and configure the boat they desire. As well as giving their clients an in-depth understanding of their boat portfolio. The solution they needed was an update to their website with a build-a-boat customizer.
3 Boats concluded that the OEM Build a Boat software by Digital Hill built exclusively to assist manufacturers would offer them the best opportunity to grow their business and help them to showcase their boats to consumers.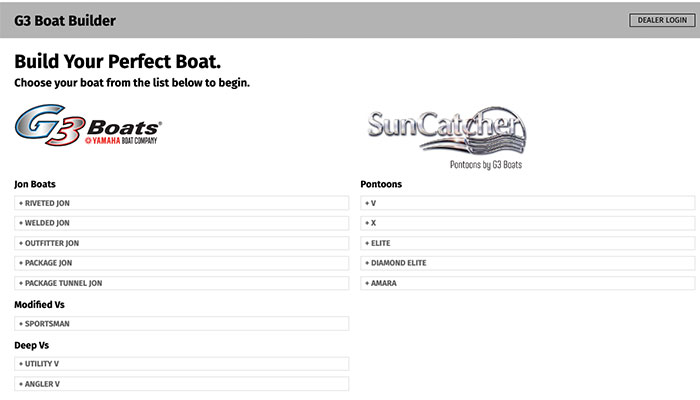 Benefits of the Build-a-Product software for manufacturers:
1. Customized Experience for Consumers
By having build-a-boat customizer software, your valued customers can personalize their new boat right from the comfort of their own home. All customers have different preferences; and you should, therefore, give them the option of choosing a product that meets their specific wants and needs. The build-a-boat software on G3 Boats allows site visitors to customize the boat of their choice and create an order for the boat they want. They can select their dream boat from the design, color, engine size, and operation needs depending on their unique situation.
Product customizing software helps to bridge the gap of cold shopping. Where customers miss the opportunity to interact with a product before making a purchase. The software betters the buying journey by allowing your customers to interact with the different product options online, see how different options look and how it impacts prices, and basically configure their own personal boat from their computer or another device.
It's important to note that a personalized experience can increase your revenue. Boatbuilder software is "sticky" consumers stick around and buy-in, and it can lead to greater spending and higher satisfaction.
2. Customers Will Spend More Time on Your Website
Having build-a-boat software on your website can increase your customers' dwell time with your product line as well. Customers will click on the many different options provided on the boat configurator; and in the process, they will likely come across something they like. High dwell time has a positive impact on their purchase intent and your site ranking. More so, through this interaction, they can familiarize themselves with other products that you offer. It can be great for sales and returning customers.
High dwell time is great for your SEO, helping your brand awareness. Search engines rank websites that are useful to users: dwell time is among the metrics that indicate a website is helpful.
3. Ability to Showcase Your Boat line
Customers prefer to work with a company that gives them options for product choices. Build-a-boat software allows you to really showcase all the products you have in your portfolio. The software can help you give customers all the information they need to make a buying decision.
4. A Faster Sales Cycle
Consumers want speed and transparency in the buying process. Build-a-boat software on your dealership website can speed up your sales cycle, as it plays the role of a digital sales consultant. Not only will it eliminate the need for consumers to travel to your store to look some boats but maybe not the boat they want, but it can also make it easy to make an informed purchase decision.
If you can give your customers the convenience of browsing through products, selecting from the different options to placing an order from the comfort of their homes, you will have a significant advantage over your competitors.
5. Customer Satisfaction
90% of customers will leave if they receive poor customer service, but they won't even complain!  Furthermore, 80% of your customers will recommend your company if they receive excellent service. The new build-a-boat web software will help to provide customers with a wonderful experience and effective customer service.
By adding a build-a-boat customizer, G3 Boats can allow the individual to create their own boat. As a result, customers will have an enjoyable and satisfying buying experience on the website. In the process, the company earns their loyalty and now have a competitive edge in the boating industry.
In conclusion, to grow your engagement, increase brand awareness, and your online revenue, you should consider updating your website to include a product customizer like the G3 Boat Builder. Product customizer software is an investment that can help you grow your business, for whatever industry you are in. Have a look today at our full range of OEM web software solutions for manufacturers and contact us to schedule a demo!