Building Trust to Boost Website Traffic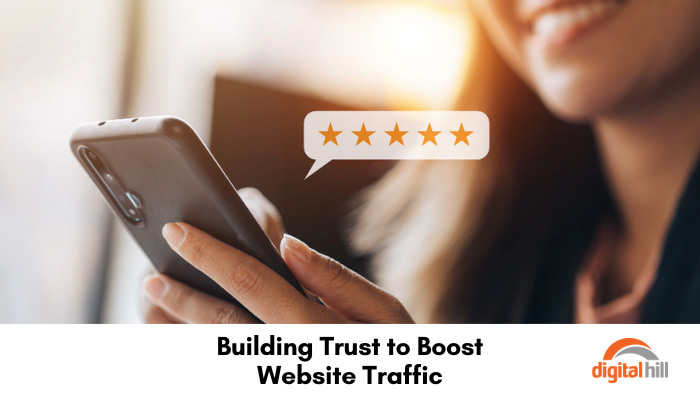 Contrary to what most people presume, a lot goes into boosting website traffic. Most people focus on SEO, paid ads, and other content marketing strategies to improve their site traffic. However, other often ignored strategies, such as building customer trust, can significantly increase website traffic. After all, website visitors won't stay or make purchases from your website unless they trust you.
Before clicking the contact or buy button, visitors should feel confident that you are running a legitimate business, can deliver value, and be certain they won't regret their choice. That said, the following tips can help you boost site traffic by building trust.
Use Clear Website Messaging and Imagery
Most professional website designers agree confusion kills conversions. Your website should have clear messaging and imagery to grab visitor's attention immediately. In the modern era, humans now have a maximum attention span of 8 seconds. This gives you a very short window of opportunity to convince site visitors to trust your website and products.
Visitors will most likely leave web pages that are confusing and hard to understand. Within these few seconds, you should show site visitors that your services can solve their pain points and they can trust you. Visitors evaluate your website design, messaging, and tone to decide if you are reliable and trustworthy.
That said, your website design should be clear and concise. The secret to a credible website is clear copywriting and content. Instead of generic and brand-centric messages, inform visitors how you can address their challenges immediately.
Leverage the Power of Persuasion
There's nothing more disappointing than when your ideal customers can't see or believe in your offer, especially after spending a lot of time, energy, and resources building your products and services. Unfortunately, closing sales and onboarding clients requires going beyond hard selling. You can't force visitors to buy from your website.
You can persuade prospects to take an action authentically. Leveraging various psychological drivers in your web design can boost site traffic and conversions. These include:
Social proof – making generic statements that your products and offers work won't convince potential customers. However, introducing social proof alleviates doubts and uncertainties. Case studies, customer testimonials, before & afters, and impact metrics are crucial.
Scarcity or urgency – humans naturally increasingly desire something scarce or in limited supply. Therefore, ensure that you emphasize urgency when marketing something that is in limited supply or time-bound. However, you shouldn't use fake scarcity as you will lose the prospect's trust.
Liking – customers get easily convinced by people they know, like, and trust. Therefore, consider putting yourself on marketing videos. Showing your customers that you care about their problems builds trust.
Consistency – site visitors can easily remember a consistent business or brand. Therefore, have consistent branding and feel across your website, social media platforms, and marketing strategies.
Lead with Value
Showing your value is another vital trust element that boosts website traffic. Providing value to potential customers up-front is a great way of building trust. It shows prospects and clients that they can trust your products or services. Therefore, instead of coming out as a hero or savior to your clients, you should position and make them feel important.
Below are a few ways you can lead with value on your website:
Create valuable content – your blogs, videos, and podcasts should position your brand as an authority in that sector. Give your opinions and ideas, and build rapport with customers.
Give lead magnets – suggest helpful lead magnets to your clients. For instance, you can offer helpful eBooks and PDFs that they can download from your site in exchange for their contact details.
Similarly, you should show appreciation to your clients and guide their next steps using strong calls to action.
The Bottom Line
While digital adoption has its benefits, disinformation and misinformation have made website visitors and online shoppers skeptical. As such, you should work hard to earn the visitor's trust. Customers will choose your competitors if you don't make the necessary adjustments to improve your brand's authenticity and reliability.