Conferences Marketing Professionals Need to Attend in 2017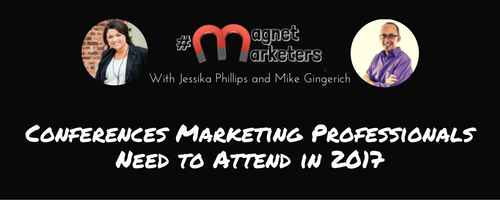 Marketers are continually learning and honing their skills to stay on top of the ever-changing world of social media.  One way to accomplish this is to define your goals and look for marketing conferences and workshops that best fit your individual needs.
Here's a list of what we consider to be the top conference for social media marketing professionals in 2017.  Mark your calendars so you don't miss these upcoming events.
March 2017
SXSW Interactive 2017 – March 10-19, 2017 in Austin, TX
http://www.sxsw.com
Highlights:
• This year's event will be making it easier for attendees to take advantage of all programs, as one badge is all that will be needed for all learning, networking, and discovery events.
• This year the conference will consist of 24 different events and new opportunities for ongoing education and networking events offering peer-to-peer sharing.
• Networking Events: Taco Meet Up, BBQ Crash Course, Music and more
• New Keynotes, Featured Speakers & 750+ Sessions at the 2017 SXSW Conference
Registration Information at https://www.sxsw.com/attend
Social Media Marketing World 2017 – March 22 – 24, 2017 at the San Diego Convention Center in San Diego, CA
http://www.socialmediaexaminer.com/smmworld
Highlights:
• The Social Media Marketing World event brings together over 4,000 marketers to share their social media marketing ideas, guaranteed to inspire, empower and reinvigorate your social media programs.
• The Networking Plaza will provide ongoing networking opportunities and the opening night event, will give attendees the unique opportunity to engage with their peers on an aircraft carrier.
Registration information available at http://www.socialmediaexaminer.com/smmworld/register
September 2017
Content Marketing World (CMWorld 2017) – September 5 -8 2017 in Cleveland, OH
http://www.contentmarketingworld.com
Highlights:
• Content marketing world brings together top industry leaders sharing their knowledge and expertise in the content marketing industry.
• With a record breaking 3,600 attendees from 55 different countries in 2016, the 2017 conference promises more industry experts and more attendees brought together to share ideas and new innovations.
• The 80+ sessions were developed by thought leaders to share their strategies, integration and measurement techniques.
Registration is currently closed, check here http://www.contentmarketingworld.com/registration
November 2017
INBOUND Conference – November 2017, Boston, MA
http://www.inbound.com
Highlights:
• The INBOUND Conference consists of sessions developed to educate, entertain and networking events.
• The event is a "must attend" for all inbound sales and service professions.
• Attendees are brought together to share their insights on content and strategies while taking part in the numerous networking opportunities.
• Together there will be over 250 industry leaders sharing their expertise at organized seminars and breakout sessions.
Registration currently closed, check back at http://www.inbound.com/inbound16/register
Dates TBD
Social Fresh – Date and location TBD
https://www.socialfresh.com
Highlights from 2016:
• Social Fresh features presentations, workshops, roundtable discussions and numerous networking events to share insights with colleagues and peers.
• The conference secures industry leaders to speak offering a complete look at the industry, trends, and solutions for social media marketers.
Registration not open at this time, check back at https://www.socialfresh.com