Continental Industries – Custom Online Tools!
Take a look at the huge difference a fresh design can bring your company or business! Check out Continental's new website!

Why is this website so special? For the average website visitor, it's the ease of obtaining information. However, more important are the features hiding out of sight from website visitors, the custom online tools of their Content Management System (CMS). So let's take a look at all that the Continental Industries website has to offer.
Custom Online Tools Are The Difference Maker!
Product Catalog Admin
Private  Customer Log-In
Cross Reference Tool
Grill Sizing Tool
Product Catalog Admin

Organizing and maintaining your online products is easier than ever with Digital Hill's new Product Catalog with Administration feature! There are 4 easy steps to for a product to become visible to your online visitors:
Step One – Click the "+ Product" button.
Step Two – Populate the fields with your desired content.
Step Three – Upload and add an image of your product.
Step Four – Double check all content, change status of product to "Publish", then click "Save" and you've done it! The public can see your product with all the information you entered.
Feel free to explore Continental Industries custom online tool, product catalog.
Making website maintenance and updates quick and easy is why our slogan is "We Make The Web Work For You". If you'd like to see the product admin area in action, give us a call at 888.537.0703, and schedule a demo!
Private  Customer Log-In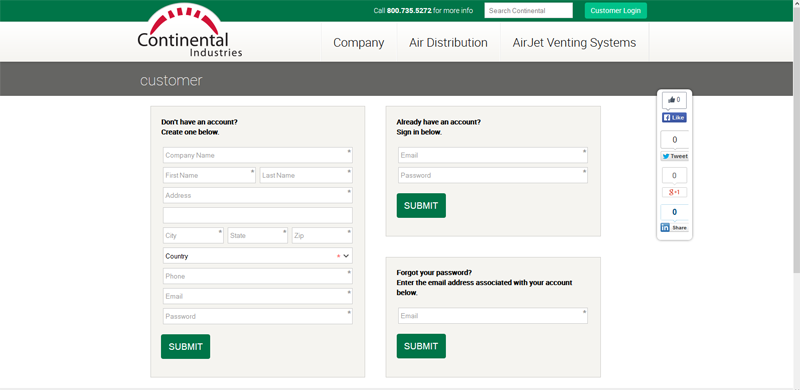 Many websites have a private customer login, with additional content and tools that help customers find what they are looking for with ease. Some of that additional content is "customer only" web pages, with detailed pricing and downloadable content. Continental's customer area has custom features that help people choose the correct product. In the customer area, there are custom online tools, such as the "GRD – Cross Reference Tool" and "Grill Sizing Tool".
Think you need a private login area, or just want to learn more about a private login area, give us a call at 888.537.0703.
GRD – Cross Reference Custom Online Tool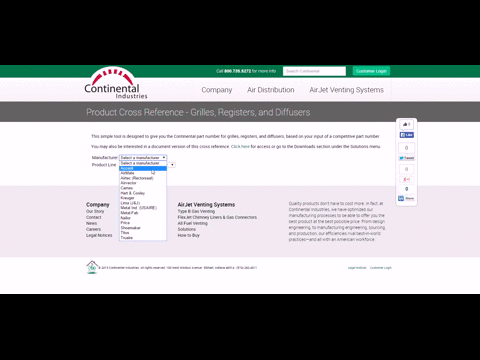 This custom tool is a really neat for website customers of Continental Industries. What is a Cross Reference Tool? Ever been on a website like Amazon and wished you knew if the product you were looking at is offered cheaper elsewhere? That's what this tool does. It cross references the competitors products, so your website visitors don't have to the leave the site. Talk about convenience!
*This tool is for customers with access to the private login area only.
Grill Sizing Custom Online Tool
The custom Grill Sizing tool is for customers who know exactly what they need when looking at Face Velocity and Cubic Feet Per Minute (CFM). This tool simplifies the process of determining proper grille size. Having the Grill Sizing Too" helps customers and employees of Continental Industries save time by eliminating the search for the correct grille type for the customers needs. If you have a large product inventory and need custom online tools to help your customers save time, give us a call at 888.537.0703, and we'll help make the web work for you!
*This tool is for customers with access to the private login area only.
Going Responsive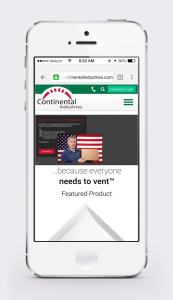 The new website is 100% responsive! It's more important that your website be mobile-friendly, because of the recent search engine algorithm change Google made, and Bing will make this summer. How important is it? These 2 search engines account for 90% of all web searches.
Take a look at how Continental's old website used to look on a mobile device.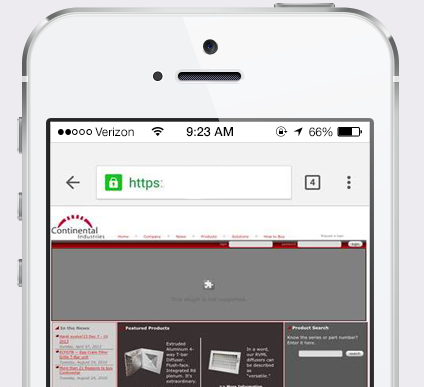 Look at the rotating image area, it's using Flash and isn't working. It states, "This plugin is not supported".  Flash is unusable on Android and Apple smartphones. All website visitors from a mobile device would see a broken feature and that's not something you want on your website.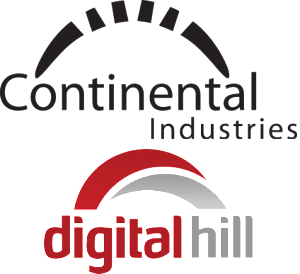 Need a high-end professional, responsive website with fully customizable back-end features? Please contact Digital Hill and request a free quote!  We make the web work for Goshen, South Bend, & Michiana and the world!