Custom Single-Page Website Launch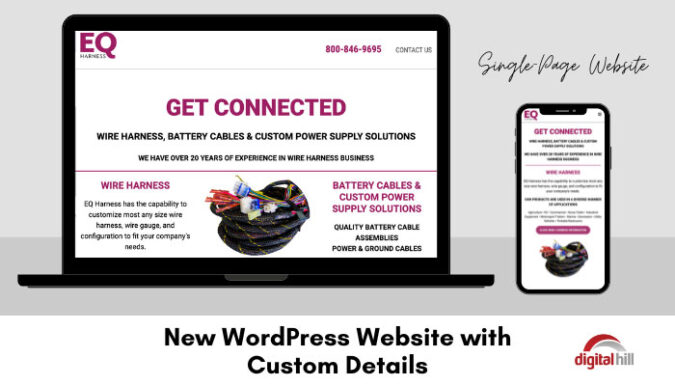 As part of the EQ System umbrella, EQ Harness needed a custom, functional website that aligned with the company's needs while representing the custom products available. As such, the EQ Harness website can stand alone and as part of the EQ Systems company. The single-page website demonstrates the custom wiring options and power supply solutions available. Below are some of the features added to the website to ensure it is functional, easy to use, and effective.
Modern Branding
The EQ Harness homepage stands out with its purple logo and branding throughout, with lots of white space. All headers and call-to-action buttons use the same purple as the logo. This helps to draw the website visitors' eye to specific areas on the website easily without being overwhelming.
Quote and Contact Procedure
The simple-to-use quote procedure helps website visitors access more information and details before committing to a project. Website visitors simply click the "Get a Quote" button and follow the on-screen instructions. The form is quite detailed to help minimize the questions EQ Harness needs to ask when they follow up, however, visitors can just fill out the necessary details as marked. Using Gravity Forms, the contact form clearly marks the required details and sends an email directly to EQ when the visitor submits. If website visitors have time-sensitive questions, they can call the phone number clearly displayed at the top and bottom of the website.
Robust SEO
Even though the EQ Harness website is a single webpage, adding SEO was a key feature. After all, increasing the search engine ranking of a business is important to draw in clients and advertise effectively. The Yoast SEO plugin makes optimizing keywords easy, and the Digital Hill team added custom copywriting that incorporates those keywords. In addition to keywords, meta descriptions were added and all images have alt tags. These small details help to improve search engine rankings and increase website traffic.
MonsterInsights
Knowing who visits your website, and where they found you is crucial when it comes to modern marketing. The MonstersInsight plugin shows real-time page-level analytics, it also offers ad tracking and performance optimization. This allows the EQ team to see how clients are finding the EQ Harness page, how long they spend on the page, and what actions they then take. This allows them to review what is working and what needs a refresh. They can also use the data to find out if more web pages should be added to the single-page website, based on visitor behavior.
Having a modern, professional single-page website that coordinates with the EQ Systems company allows EQ Harness to advertise their products and reach more clients. A custom website helps businesses have control over their online presence while portraying their business effectively.
As technology continues to evolve, a new website allows your business to maintain that professional image at all times. Contact Digital Hill today to discuss your business website needs.