Das Dutchman Essenhaus of Middlebury, IN, Launches New Web Design
Digital Hill Multimedia, Inc. is pleased to announce the launch of a new web design for Das Dutchman Essenhaus, of Middlebury, Indiana, in the heart of the Amish region of Elkhart County. Click the link to see the new Essenhaus web design.
The new Essenhaus web design for this Elkhart County tourism hotspot features a full CMS Backend administration area allowing them to add new flash images to their home page, custom pages via a Microsoft Word Style interface enabling them to add and manage content, images, and even embed videos. They have a unique color scheme for main category page sections including:
The new web design also features ability to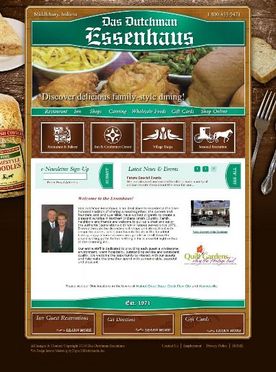 complete Inn Reservations online, a  full e-commerce store where you can purchase gift cards and other great Essenhaus items after you've left Elkhart County, including their nationally known noodles, and more!  The site has an easy e-mail sign-up to subscribe to e-mail updates, as well as a robust News area allowing the Essenhaus to do Internet Marketing with an RSS feed, allowing users to subscribe via RSS Readers.
Das Dutchman Essenhaus is an ideal place in Elkhart County's Amish heartland to experience the time-honored tradition of sharing a meal together. Family, neighbors and friends are welcome to pull up a chair and savor the authentic (generations-old) family recipes served since 1971, and to stay for a weekend in their full service Inn and Conference Center.  Close to Shipshewana and its Amish amenities, the Essenhaus is just off the Indiana Toll Road via the Elkhart or Middlebury exits.
Digital Hill Multimedia is pleased to be the web design provider for the Essenhaus.  Serving the Elkhart, South Bend, Goshen, Middlebury, Fort Wayne and surrounding areas with professional web design and Internet Marketing, as well as Social Media Marketing, Digital Hill is your one-stop for a powerful web presence.  View the new Digital Hill  Facebook Fan Page App here, and contact Digital Hill to discuss your website and Internet Marketing needs.
Whether you are in Elkhart County, Indiana or nationwide, Digital Hill can provide professional services including but not limited to web design and Internet Marketing to make the web work for you!
——–
Digital Hill Multimedia – Serving Elkhart County, South Bend, Fort Wayne, and National Clientele