DH Seminar: Cost Effective Marketing Using Social Media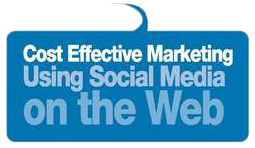 Cost Effective Marketing Using Social Media on the Web

Digital Hill Multimedia will be presenting a Business Seminar on November 20th from 11:45 a.m. to 1:00 p.m. at the Eagles Glen Golf Course Event Center, Columbia City, IN.  The event is sponsored by the Columbia City Chamber of Commerce.
The seminar entitled, "Cost Effective Marketing Using Social Media on the Web", will be an informative and interactive seminar open to Chamber members and other businesses and organizations in and around Columbia City.
Attendees can expect to have these questions and more answered!
 I thought Social Media was just for my kids or to connect with friends; can it really help my business?

 Can Social Media Marketing work for my type of business?

What is Twitter and do I want to Tweet?


 I don't know much about Facebook, LinkedIn, or other Social Media; so is this something I'd have to learn and would require lots of time and money?

You will learn about new, cost effective and measureable marketing techniques including Twitter, Facebook, LinkedIn, and YouTube; and how these social media platforms can be used by many diverse businesses and organizations in a cost effective way to market their business and products / services.
The cost is $10 for Chamber members and $12 for others.  We do require an RSVP by 11/18. To register please call: 260-248-8131 or