Digital Hill Launches Mobile Site for Da-Lite Screen Company
Press Release
Digital Hill Multimedia is pleased to announce the release of a Mobile Website for Da-Lite Screen Company.  Da-Lite is one of the global leaders in the projection screen industry.  View the mobile site on your phone by going to www.Da-Lite.com.  The site will detect your mobile phone browser and automatically display the mobile version of the site.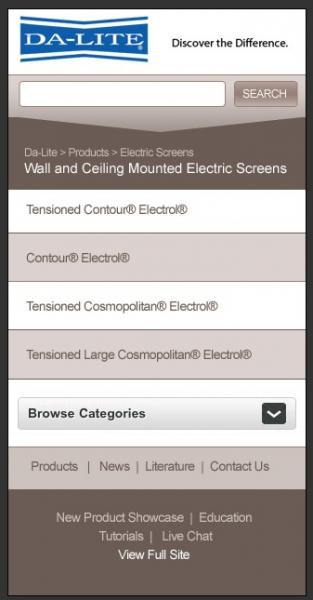 The Da-Lite Mobile website is intended to offer customers and dealers the ability to easily have all important product information and product documents accessible while on the go, via a mobile phone. With smart phones continuing to take a greater share of the Internet use market, Da-Lite decided to adapt early to this growing trend and offer a complete mobile version of their corporate website.
The mobile version allows iPhone, Blackberry, and other cell / mobile phone users with internet browsing capability to view all products and information Da-Lite has to offer, as well as find key contacts, use the instant chat feature, view tutorial videos (via YouTube) and  more!  Another key feature of the mobile site is that Da-Lite continues to manage their website content in one area, and Digital Hill has programmed the mobile version to automatically update and format new information for the mobile pulling automatically from the main corporate website.  So there is no added work for the Da-Lite website marketing team, just more ways that users can view their site and information!  With over 28% of mobile phone users accessing the Internet on their phones daily, this increasing trend is something companies must be aware of!
Da-Lite has been designing, manufacturing and marketing the most comprehensive line of projection screens in the world for over 100 years. You can visit the site by going to www.Da-Lite.com on your smart phone.
Don't miss out on the growing mobile market!  Contact Digital Hill today and find out how we can create a mobile version of your website.
Digital Hill has been delivering innovative website, Ecommerce, Social Media, App Development and Web Marketing solutions in Northern Indiana and throughout the country for over 13 years. They are the creators of Facebook TabSite, a new innovative Fan Page tool enabling any company to easily customize their Facebook Page.