Digital Hill Launches New eCommerce Web Design for Factory RV Surplus
Press Release
eCommerce ~ Elkhart ~ website ~ web design
Factory RV Surplus, located in Elkhart, Indiana, sells new and used RV equipment and accessories. Visit their website at www.FactoryRVSurplus.com for more information and to view their online catalog.
The new eCommerce website for Factory RV Surplus allows its customers to purchase new and used products and equipment for RVs. Customers in Elkhart, and worldwide, are able to view their order history or status via Digital Hill's own eCommerce platform. Factory RV Surplus of Elkhart is able to manage products, categories, images and orders via the simple Content Management System built directly into the eCommerce website. The web design also has SEO tools enabling the Elkhart website to edit Page Titles, Meta Data and Keyword Density.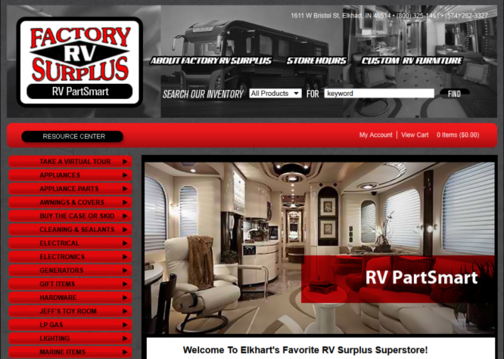 The new web design for Factory RV Surplus is a welcome addition to Digital Hill's portfolio of Elkhart website clients. For over 14 years, Digital Hill Multimedia, Inc. has specialized in Web Design, eCommerce, SEO, Web Hosting, Social Media, Flash, 3-D Animation, Application Development, Internet Marketing and Promotion Strategies in Northern Indiana, Elkhart and throughout the country.
Visit www.digitalhill.com or call 888-537-0703.
ecommerce ~ Elkhart ~ website ~ web design