Digital Hill Launches New eCommerce Website for L&W Engineering
Press Release
Engineering ~ Digital Hill ~ Website ~ Web Design ~ eCommerce ~ Middlebury

Whether you are an OEM, RV dealer, camping organization, campground or camping supplies retailer, L&W Engineering makes it easy to find the products you need. For more information, visit www.LW-Eng.com.
The new L&W Engineering eCommerce website is an extraordinary one indeed. It opens with an eye catching Home Page Rotating Image area that is completely customized by L&W. The Product Administration allows the Middlebury website to easily manage product categories, sub-categories, images, and details. There is even an area for L&W to designate dealer information. Not only that, but they can also assign dealer access to certain engineering products, so each dealer has a unique view of the Middlebury website that is created just for them. To complete the web design, Digital Hill has built SEO tools directly into the Content Management System. This eCommerce website is sure to reach the top of online search results.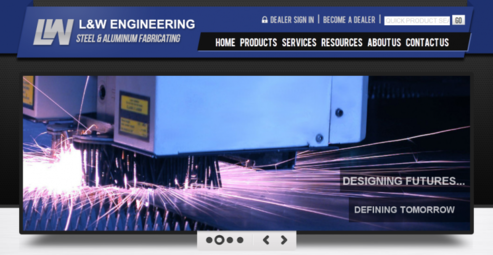 The new web design for L&W Engineering is a welcome addition to Digital Hill's portfolio of Middlebury website clients. For over 14 years, Digital Hill Multimedia, Inc. has specialized in Web Design, eCommerce, SEO, Web Hosting, Social Media, 3-D Animation, Application Development, Internet Marketing and Promotion Strategies in Middlebury, Northern Indiana, and throughout the country.
Visit www.digitalhill.com or call 888-537-0703.
Engineering ~ Digital Hill ~ Website ~ Web Design ~ eCommerce ~ Middlebury