Digital Hill Launches New Website for Ayr Custom Cabinetry
Press Release
Ayr ~ Digital Hill ~ Website ~ Web Design ~ Nappanee

The Ayr Custom Cabinetry was founded in 1965 in the heart of the Amish community in Nappanee, Indiana. Ayr has established itself as a leader in the Custom Cabinet marketplace. Visit www.AyrCabinet.com for more information.
The brand new Ayr Custom Cabinetry website is visually unique and definitely one to brag about! The home page rotating image area is full size and completely controlled by Ayr using Digital Hill's Content Management System. Not only are the home page images full size, so are the product images! This helps to show the viewer the detail of the work with which Ayr prides themselves. The Nappanee website also includes a dealer locator utilizing a Google map feature to easily update dealer information.
As with all Digital Hill web designs, the Ayr website comes fully equipped with SEO tools to increase their position on Internet searches.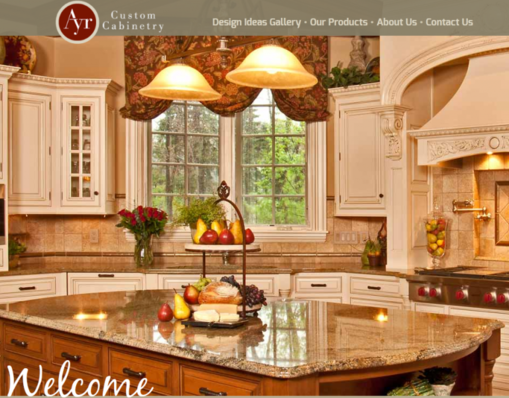 The new web design for Ayr Custom Cabinetry is a welcome addition to Digital Hill's portfolio of Nappanee website clients. For over 14 years, Digital Hill Multimedia, Inc. has specialized in Web Design, eCommerce, SEO, Web Hosting, Social Media, 3-D Animation, Application Development, Internet Marketing and Promotion Strategies in Nappanee, Northern Indiana, and throughout the country.
Visit www.digitalhill.com or call 888-537-0703.
Ayr ~ Digital Hill ~ Website ~ Web Design ~ Nappanee