Digital Hill Launches New Website for Borkholder Buildings
Website ~ Web Design ~ Content Management System ~ Rotating Image Area ~ Nappanee
When you buy a Borkholder Building, it is designed using components that are designed and engineered to compliment and work together focusing first on the value received for the dollar that is spent. Visit www.BorkholderBuildings.com for more information.
The new Borkholder Buildings website of Nappanee is a smooth and straightforward site with a Home Page Rotating Image Area and a Content Management System. The Home Page Rotating Image Area implemented in to the web design allows Borkholder to easily upload images, link images and set the delay time between images. The convenient and practical Content Management System gives Borkholder the ability to add pages and sub-pages, organize pages, and edit content. As with each website that Digital Hill produces, the Borkholder website is equipped with easy to use SEO tools built directly into the toolbar.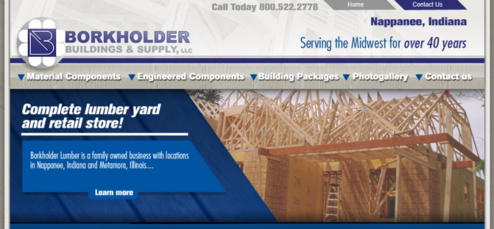 The new web design for Borkholder Buildings is a welcome addition to Digital Hill's portfolio of Nappanee website clients. For over 14 years, Digital Hill Multimedia, Inc. has specialized in Web Design, eCommerce, SEO, Web Hosting, Social Media, Flash, 3-D Animation, Application Development, Internet Marketing and Promotion Strategies in Nappanee, Northern Indiana and throughout the country.
Visit www.digitalhill.com or call 888-537-0703.
Website ~ Web Design ~ Content Management System ~ Rotating Image Area ~ Nappanee