Digital Hill Launches New Website for Borkholder Furniture
Press Release
Web Design ~ Website ~ Borkholder Furniture ~ Product Administration ~ Nappanee
Borkholder Furniture, of Nappanee, Indiana, takes a hands-on with everything they produce and sell. Borkholder products are made from the finest material available and combines yesterdays craftsmanship with today's fit and functionality. Visit www.BorkholderFurniture.com today!
Borkholder Furniture came to Digital Hill with a design that they wanted turned into a new website. Digital Hill was able to take the design, create a functional online version, thus giving birth to the new Borkholder Furniture website. The Nappanee web design uses a Product Administration feature that allows Borkholder to manage product categories and sub-categories, product descriptions, images, and prices. Combine this with a Content Management System and the new Nappanee website is highly functional in letting viewers discover all that is Borkholder Furniture.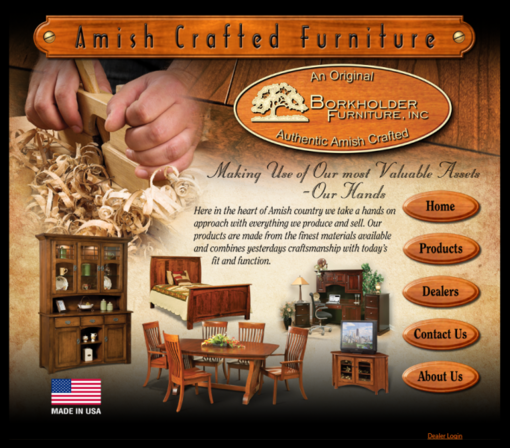 The new web design for Borkholder Furniture is a welcome addition to Digital Hill's portfolio of Nappanee website clients. For over 14 years, Digital Hill Multimedia, Inc. has specialized in Web Design, eCommerce, SEO, Web Hosting, Social Media, Flash, 3-D Animation, Application Development, Internet Marketing and Promotion Strategies in Nappanee, Northern Indiana and throughout the country.
Visit www.digitalhill.com or call 888-537-0703.
Web Design ~ Website ~ Borkholder Furniture ~ Product Administration ~ Nappanee