Digital Hill Launches New Website for Conley and Koontz Equine Hospital
Conley and Koontz Equine Hospital – Website – Web Design – Internet Marketing – Social Media
Columbia City, Indiana – March 10, 2011
Conley and Koontz Equine Hospital of Columbia City, Indiana is a premier medical facility for the treatment of horses in Northeast Indiana. The hospital provides surgical, diagnostic, and treatment options.
The new Conley and Koontz Equine Hospital website incorporates many aspects of Internet marketing via numerous social media outlets.There is a Blog feed that patients can subscribe to and is also pulled directly to a custom tab on their Facebook Fan Page, which is made possible by Digital Hill's Facebook application TabSite. There are also Facebook and Twitter widgets built directly into the website. The web design has also been utilized for the Conley and Koontz custom designed YouTube channel and email marketing template. Not only does the new Columbia City, Indiana website and web design make use of Internet marketing through social media, it also is linked to Google Analytics producing greater SEO results.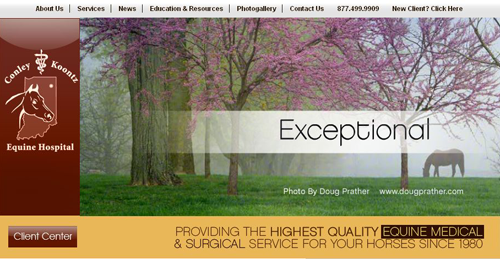 The new website for Conley and Koontz Equine Hospital is a welcome addition to Digital Hill's portfolio of
Columbia City, Indiana area website clients. For over 14 years, Digital Hill Multimedia, Inc. of Indiana has specialized in Web Design, E-commerce, SEO, Web Hosting, Social Media, Flash, 3-D Animation, Application Development, Internet Marketing and Promotion Strategies in Columbia City, Northern Indiana and throughout the country. They can be contacted at 1-888-537-0703 or visit the website at www.digitalhill.com.
Digital Hill Multimedia, Inc.
229 S. Main St.
Goshen, Indiana 46526