Digital Hill Launches New Website for Fanatic Tailgate Trailers
Press Release
Fanatic Tailgate Trailers ~ Elkhart ~ Content Management System ~ Website ~ Web Design
Fanatic Tailgate Trailers Inc., of Elkhart, evolved from their love of college football and the exponential growth of tailgating. Visit www.Fanatic Tailgate Trailers.com for more information.
The new Fanatic Tailgate Trailers website comes fully equipped with Digital Hill's own Content Management System. The CMS allows the Elkhart website to add, delete, and organize top level pages and sub-pages. The intuitive editor tools allow Fanatic Tailgate Trailers to easily organize the content in their new website. The web design has also incorporated a custom Build-a-Trailer form complete with captcha to ensure safe submission of the viewer's information. As with all of Digital Hill's web designs, the new Elkhart website has SEO tools built directly into the manager area, which benefit search engine results.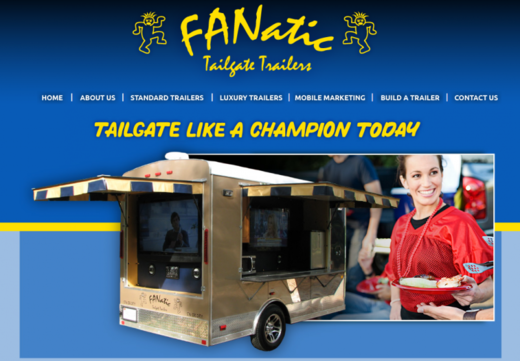 The new web design for Fanatic Tailgate Trailers is a welcome addition to Digital Hill's portfolio of Elkhart  website clients. For over 14 years, Digital Hill Multimedia, Inc. has specialized in Web Design, eCommerce, SEO, Web Hosting, Social Media, Flash, 3-D Animation, Application Development, Internet Marketing and Promotion Strategies in Elkhart, Northern Indiana and throughout the country.
Visit www.digitalhill.com or call 888-537-0703.
Fanatic Tailgate Trailers ~ Elkhart ~ Content Management System ~ Website ~ Web Design