Digital Hill Launches New Website for Forge Industrial Staffing
Press Release
Forge ~ Digital Hill ~ Website ~ Web Design ~ Grand Rapids
Forge Industrial Staffing was founded in 1995 with a vision of a staffing company that was built on relationships and focused on the needs of the industrial client. for more information visit www.ForgeStaff.com.
The new Forge Industrial Staffing website includes a full Content Management System that allows for the addition of unlimited sub-pages, which have full content editors built-in. Forge is able to publish, unpublish, delete, and rearrange each sub-page they create. The Forge website also has an embedded Google map for viewers to easily find nearest locations. All locations pinned on the map can added, deleted, and are completely editable by Forge. As with all Digital Hill web designs, this Grand Rapids based website has SEO tools incorporated into the manager area. This not only helps the Forge website reach the top of the list on Internet searches, it also helps job seekers find employment and companies staff their offices much more easily.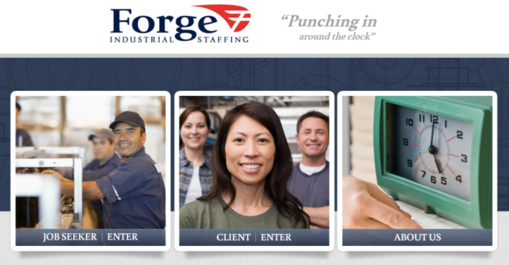 The new web design for Forge Industrial Staffing is a welcome addition to Digital Hill's portfolio of Grand Rapids, Michigan website clients. For over 14 years, Digital Hill Multimedia, Inc. has specialized in Web Design, eCommerce, SEO, Web Hosting, Social Media, 3-D Animation, Application Development, Internet Marketing and Promotion Strategies in Grand Rapids, Northern Indiana, and throughout the country.
Visit www.digitalhill.com or call 888-537-0703.
Forge ~ Digital Hill ~ Website ~ Web Design ~ Grand Rapids