Digital Hill Launches New Website for HiSpec Wheel & Tire, Inc.
Press Release
HiSpec Wheel & Tire ~ website ~ web design ~ Mishawaka ~ Digital Hill

Located in Mishawaka, Indiana, HiSpec® Wheel & Tire manufactures aluminum wheels, accessories, and provides wheel/tire assemblies for the recreational vehicle, marine, cargo and specialty trailer industries. For more information, visit www.HiSpecWheel.com.
The new HiSpec Wheel & Tire of Mishawaka website combines both a Content Management System and Product Administration area to achieve a prime advantage in which to showcase the company, along with the products! The Mishawaka website has the ability to add multiple sub-pages, product categories and sub-categories, and descriptive product pages that include their own galleries The home page of the website has a rotating image area that is complete customized by HiSpec Wheel & Tire. The Digital Hill web design allows images to link to other web pages, the delay time can be set from 1-10 seconds, and the captions are customizable.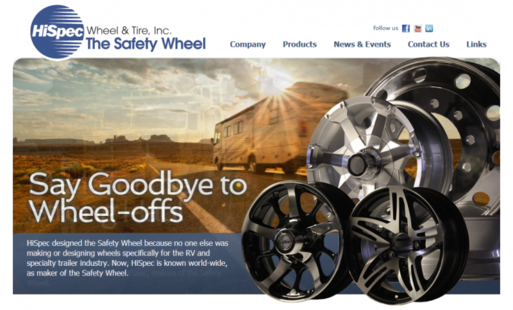 The new website for HiSpec Wheel & Tire, Inc. is a welcome addition to Digital Hill's portfolio of Mishawaka clients. For over 14 years, Digital Hill Multimedia, Inc. has specialized in Web Design, eCommerce, SEO, Web Hosting, Social Media, Flash, 3-D Animation, Application Development, Internet Marketing and Promotion Strategies in Mishawaka, and throughout the country.
Visit www.digitalhill.com or call 888-537-0703.
HiSpec Wheel & Tire ~ website ~ web design ~ Mishawaka ~ Digital Hill