Digital Hill Launches New Website for Ironwood Plastics
Press Release
Ironwood ~ Digital Hill ~ Website ~ Web Design ~ Blog ~ Media Show ~ Product Administration
Ironwood Plastics built its reputation on performing the most difficult projects in the industry with an emphasis on insert molding and engineered materials. For more information, please visit their website at www.Ironwood.com.
The new Ironwood Plastics website opens with Digital Hill's newest feature, Media Show. This allows the addition of static images and videos, but gives the capability of adding transition effects like fade, pan, zoom, and wipe. The Blog and Newsletter area of the website keeps their viewers abreast of latest happenings, all of which is made possible via Digital Hill's stress-free Content Management System that is incorporated directly into the web design. The CSM also includes a Product Administration providing Ironwood a streamline process to showcase their products and services.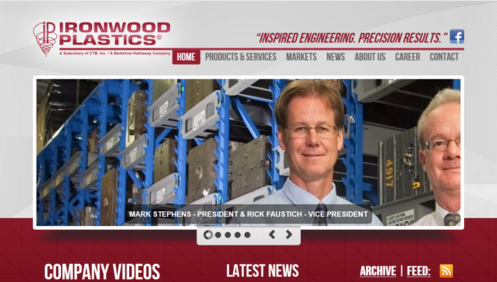 The new web design for Ironwood Plastics is a welcome addition to Digital Hill's portfolio of Ironwood, Michigan website clients. For over 14 years, Digital Hill Multimedia, Inc. has specialized in Web Design, eCommerce, SEO, Web Hosting, Social Media, 3-D Animation, Application Development, Internet Marketing and Promotion Strategies in Ironwood, Northern Indiana, and throughout the country.
Visit www.digitalhill.com or call 888-537-0703.
Ironwood ~ Digital Hill ~ Website ~ Web Design ~ Blog ~ Media Show ~ Product Administration