Digital Hill Launches New Website for Pamper Your Partner
Website ~ Web Design ~ Fort Wayne

Pamper Your Partner is designed to celebrate love and relationships! To help spice up your marriage and help give ideas to show your partner that you care for them in normal ordinary ways!
Visit www.PamperYourPartnerToday.com
The new website for Pamper Your Partner was designed to allow visitors to sign up for membership, be charged according to their membership level and give them access to members only pages. The Page Creator system that Digital Hill incorporates into each web design has been customized permitting the ability to tag members only pages via the manager area of the website. There is also a Promo Code creator permitting the Fort Wayne website to manage discounts enticing visitors to sign up for their service. With the easy-to-use Content Management System built directly into the web design, the new Fort Wayne website can update their content effortlessly.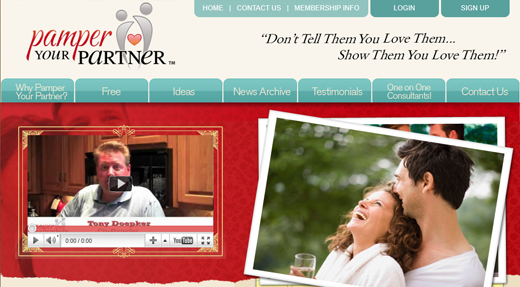 The new website for Pamper Your Partner is a welcome addition to Digital Hill's portfolio of Fort Wayne  clients. For over 14 years, Digital Hill Multimedia, Inc. has specialized in Web Design, eCommerce, SEO, Web Hosting, Social Media, Flash, 3-D Animation, Application Development, Internet Marketing and Promotion Strategies throughout the country.
Visit www.digitalhill.com or call 888-537-0703.
Website ~ Web Design ~ Fort Wayne