Digital Hill Launches New Website for RC Trailers
Press Release
RC Trailers ~ Digital Hill ~ Website ~ Web Design ~ Media Show ~ Middlebury
RC Trailers of Middlebury is one of the largest cargo trailer manufacturers in the Midwest and offers a large selection of steel and aluminum trailers, both enclosed and open. For more information visit www.RCTrailers.com.
The new RC Trailers website is the first to go live with Digital Hill's newest feature… Media Show! Similar to a rotating home page image area, Media Show allows the Middlebury website to add static images and videos. Here's the difference, Media Show also allows RC Trailers to add transition effects to the images. This is combined  with a robust Product Administration area, Photo Galleries, and SEO tools built right into the web design. With all these attractive and easy-to-use features at their fingertips, the new Middlebury website is sure to skyrocket to the top of search results.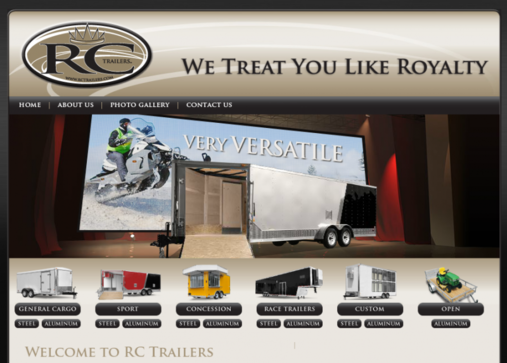 The new web design for RC Trailers is a welcome addition to Digital Hill's portfolio of Middlebury website clients. For over 14 years, Digital Hill Multimedia, Inc. has specialized in Web Design, eCommerce, SEO, Web Hosting, Social Media, 3-D Animation, Application Development, Internet Marketing and Promotion Strategies in Middlebury,Northern Indiana, and throughout the country.
Visit www.digitalhill.com or call 888-537-0703.
RC Trailers ~ Digital Hill ~ Website ~ Web Design ~ Media Show ~ Middlebury