Digital Hill Launches New Website for River Point Surgery Center
Press Release
Web Design ~ Website ~ Content Management System ~ Elkhart

River Pointe Surgery Center of Elkhart, Indiana is a state-of-the-art ambulatory surgery center where surgeons perform a broad range of outpatient surgical procedures. Visit the River Pointe website for more information.
River Pointe Surgery Center needed an new and improved website with a professional look, yet was easy to update. Digital Hill designed a website that fit River Pointe's needs. The rejuvenated design is polished and simple to navigate. With an uncomplicated and proficient Content Management System, River Pointe is able to easily add top level pages and sub-pages, along with update content with lightning speed. There is also an embedded Google Map to allow patients to quickly find the Elkhart facility.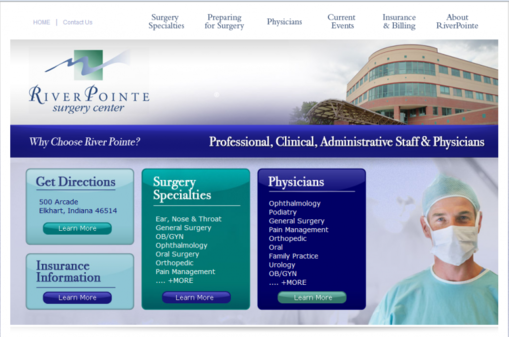 The new web design for River Pointe Surgery Center is a welcome addition to Digital Hill's portfolio of Elkhart website clients. For over 14 years, Digital Hill Multimedia, Inc. has specialized in Web Design, eCommerce, SEO, Web Hosting, Social Media, Flash, 3-D Animation, Application Development, Internet Marketing and Promotion Strategies in Elkhart, Northern Indiana and throughout the country.
Visit www.digitalhill.com or call 888-537-0703.
Web Design ~ Website ~ Content Management System ~ Elkhart