Digital Hill Launches New Website for Select Sewing Services
Select Sewing Services – Website – Web Design
Indianapolis, Indiana – February 8, 2011
Select Sewing Service has 2 locations in the Indianapolis area offering sewing, quilting and embroidery machines; along with classes, accessories, and more.
The new web design features a Content Management System (CMS) editor allowing for easy content editing, along with the ability to create both main and sub categories. The new design gives the Indianapolis website the control they need to easily manage their site, keeping it current with provided services and equipment. The page creation system allows Select Sewing Services of Indianapolis to create new top-level and sub-pages, organize pages and delete pages from included toolbar built directly into the website. The new website also features easy-to-use SEO tools for easy editing of search engine results allowing potential clients in the Indianapolis area to better find the new website.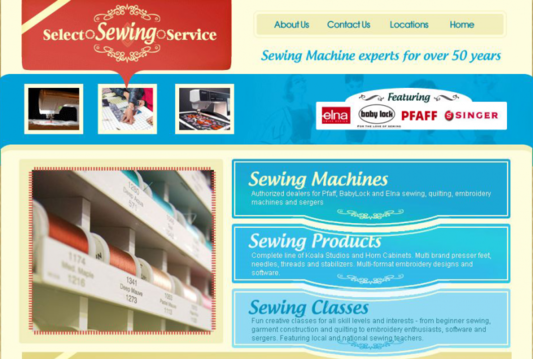 The new web design for Select Sewing Services is a welcome addition to Digital Hill's portfolio of Indianapolis area website clients. For over 14 years, Digital Hill Multimedia, Inc. has specialized in Web Design, E-commerce, SEO, Web Hosting, Social Media, Flash, 3-D Animation, Application Development, and Internet Marketing and Promotion Strategies in Indianapolis, Northern Indiana and throughout the country. They can be contacted at 1-888-537-0703 or www.digitalhill.com.
Digital Hill Multimedia, Inc.
229 S. Main St.
Goshen, IN 46526