Digital Hill Launches New Website for Sweetwater Boats
Press Release
Sweetwater ~ Boats ~ Nautic Global Group~ Website ~ Web Design ~ Digital Hill ~ Elkhart
Here's the simple formula behind the success of Sweetwater Boats. Ready? Build solid boats designed to last, pack them with more standard features than the competition, and offer the best value in the industry top to bottom. Visit www.SweetwaterBoats.com for more information.
The new website for Sweetwater Boats of Elkhart, Ind., a subsidiary of Nautic Global Group, utilizes a captivating Flash animation on the home page to draw viewers in for a closer look. With a detailed description of every Sweetwater Boat model on the the website, finding a boat that is right for you is effortless. The dealer locator makes it simple to find a dealer, not only nationwide, but in Canada and internationally, too. The new Elkhart website also offers the ability to request a brochure, DVD, quote, financing, or trade-in value. Nautic Global Group is able to update the Sweetwater Boats website, along with its other subsidiary websites, using a single and unique Content Management System that Digital Hill built to specifically fit their needs.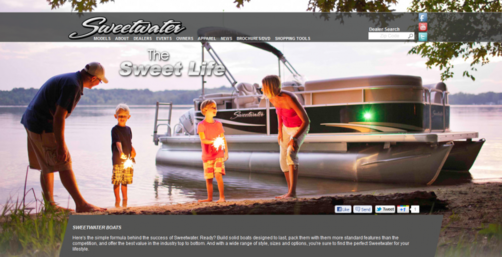 The new web design for Sweetwater Boats is a welcome addition to Digital Hill's portfolio of Elkhart website clients. For over 14 years, Digital Hill Multimedia, Inc. has specialized in Web Design, eCommerce, SEO, Web Hosting, Social Media, Flash, 3-D Animation, Application Development, Internet Marketing and Promotion Strategies in Elkhart, Northern Indiana and throughout the country.
Visit www.digitalhill.com or call 888-537-0703.
Sweetwater ~ Boats ~ Nautic Global Group ~ Website ~ Web Design ~ Digital Hill ~ Elkhart