Digital Hill Launches New Website for WFRN Friend Fest
Press Release
WFRN ~ Friend Fest ~ Digital Hill ~ Website ~ Web Design ~ Nappanee

WFRN Friend Fest 2012 is a Two-Day, Multi-Stage Christian Music Festival Featuring 20 Major Recording Artists. For more information, visit www.WFRNFriendFest.com.
The new WFRN Friend Fest website opens with a rotating image area, which is administered in Digital Hill's Content Management System. WFRN has the ability to add sub-pages to the top-level pages, along with editing the content to keep it fresh and informable. Social media plug-ins for Facebook and Twitter have been integrated into the Nappanee website, as well as share buttons. There's also a newsletter sign-up with a custom email template mimicking the web design for branding purposes. As with all of Digital Hill websites, the manager area comes equipped with SEO tools, so WFRN should have no problem with ticket sales!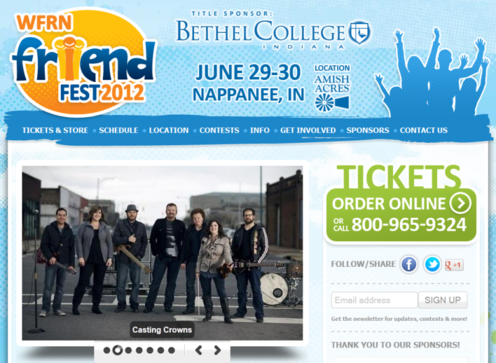 The new web design for WFRN Friend Fest is a welcome addition to Digital Hill's portfolio of Nappanee website clients. For over 14 years, Digital Hill Multimedia, Inc. has specialized in Web Design, eCommerce, SEO, Web Hosting, Social Media, 3-D Animation, Application Development, Internet Marketing and Promotion Strategies in Nappanee, Northern Indiana, and throughout the country.
Visit www.digitalhill.com or call 888-537-0703.
WFRN ~ Friend Fest ~ Digital Hill ~ Website ~ Web Design ~ Nappanee