Digital Hill's Mike Gingerich Presents on Social Media to CB Richard Ellis | Bradley
Press Release
South Bend Social Media Marketing Seminar


South Bend, IN, March 11, 2010 – Mike Gingerich, a Web Technology and Internet Marketing Consultant for Digital Hill Multimedia, Inc., will present to the CB Richard Ellis | Bradley South Bend Area team on social media marketing and its business benefits in a presentation entitled "Social Media for Business."

The Summit Club in downtown South Bend, IN, will be the host venue for the March 12 social media marketing presentation.  Attendees include regional brokers and team members of CB Richard Ellis | Bradley in the South Bend area.
To be covered in the Presentation:

Business applications for social media

Personal Branding on the web


YouTube, Blogging, Facebook, Twitter, LinkedIn and others

Social Media Search Engine Optimization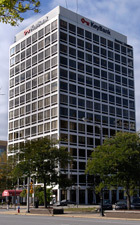 Since 2006, Mike Gingerich has played an integral role in designing, developing, deploying, and tracking robust web design and Internet Marketing strategies for over 100 client companies and organizations, and is an accomplished Internet Marketing consultant.  He holds a M.S. in Organizational Development and Leadership from Shippensburg University of PA, and a B.A. from Bethel College in Mishawaka, IN.  Mike is a Web Design and Internet Marketing Consultant at Digital Hill Multimedia, Inc., a leading web design and internet marketing agency for South Bend and across the Midwest.

For over 12 years, Digital Hill Multimedia, Inc. has specialized in Web Design, E-Commerce, SEO, Web Hosting, Social Media, Flash, 3-D Animation, Application Development, and Internet Marketing and Promotion Strategies for South Bend, Northern Indiana and throughout the Country. 
For inquiries regarding web design, Internet Marketing, and Social Media strategies, they can be contacted at 1-888-537-0703 or www.digitalhill.com.