Down Inc. Launches New Website by Digital Hill
Press Release
Down Inc. ~ Digital Hill ~ Website ~ Web Design ~ Grand Rapids ~ Content Management System

Down Inc. is a Michigan-based manufacturing company specializing in down and feather bedding products for the residential, design and hospitality trade. For more information, visit www.DownInc.com.
The new Down Inc. website has an eCommerce platform with full product administration features to keep their online catalog up-to-date. There is a wholesaler log-in area that is completely managed via the Content Management System. The Grand Rapids website has the ability to set up a wholesaler account and designate which products or pages each wholesaler is able to view. Down also controls the rotating images and three call-out images that are on the home page. With SEO Tools built right in, the new Down Inc. website is sure to reach the top of the list!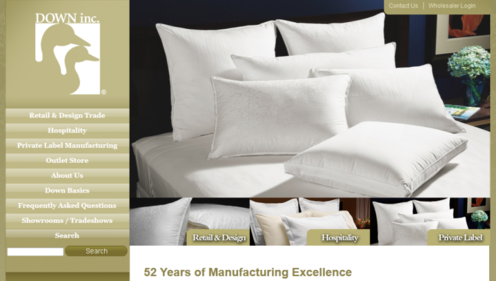 The new web design for Down Inc. is a welcome addition to Digital Hill's portfolio of Grand Rapids website clients. For over 14 years, Digital Hill Multimedia, Inc. has specialized in Web Design, eCommerce, SEO, Web Hosting, Social Media, 3-D Animation, Application Development, Internet Marketing and Promotion Strategies in Grand Rapids, Northern Indiana, and throughout the country.
Visit www.digitalhill.com or call 888-537-0703.
Down Inc. ~ Digital Hill ~ Website ~ Web Design ~ Grand Rapids ~ Content Management System