Dr. Weldy's Launches a New Web Design by Digital Hill
Digital Hill Press Release:
Dr. Weldy's  – Web Design
Elkhart County, Indiana – December 2, 2010
Dr. Weldy's of Walkarusa in Elkhart County, Ind., has launched a new web design by Digital Hill.
Dr. Weldy's is a full service veterinary provider offering a full range of services. From large animals to small animals, Dr. Weldy's does it all.

The new Dr. Weldy's web design features an update-able Content Management System (CMS) allowing for the ability to create new pages and edit all main content from the comforts of  a user-friendly toolbar built directly into the website. The CMS also allows the ability to add links, images, PDFs and much more. On top of the CMS, the web design permits patients to schedules appointments, request emergency assistance and contact Dr. Weldy's with questions or concerns.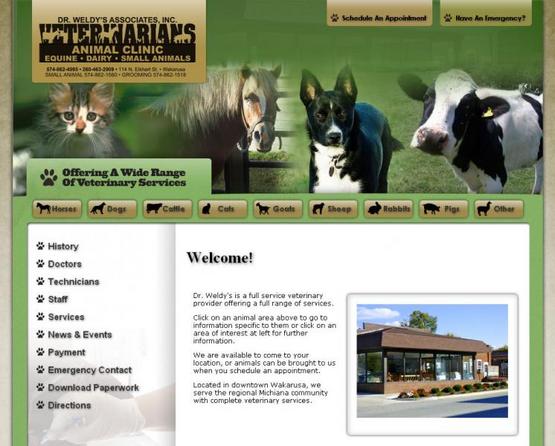 The new web design for Dr. Weldy's is a welcome addition to Digital Hill's portfolio of Elkhart County  area website clients. For over 14 years, Digital Hill Multimedia, Inc. has specialized in Web Design, E-commerce, SEO, Web Hosting, Social Media, Flash, 3-D Animation, Application Development, and Internet Marketing and Promotion Strategies in Elkhart County, Northern Indiana and throughout the country. They can be contacted at 1-888-537-0703 or www.digitalhill.com.
Digital Hill Multimedia, Inc.
229 S. Main St.
Goshen, IN 46526