DRV Launches New Website by Digital Hill
DRV ~ Howe ~ Web Design ~ Website ~ Flash ~ Photo Gallery
Offering luxury suites in three product lines: the Elite Suite, Mobile Suite and Select Suite. Visit the DRV website for more information.
The new DRV website opens with an elegant Flash which displays interior and exterior imagery for each of the DRV Luxury Suites. The new web design is able to integrate additional images with Digital Hill's photo gallery feature, allowing the new Howe website the ability to add a photo gallery description, captions and even set the order of the images displayed in each photo gallery. There is also a Content Management System toolbar incorporated into the the web design giving DRV the ability to edit content with ease, create new top level and sub-pages, organize and rearrange pages, and delete pages.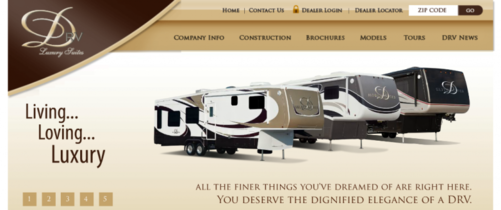 The new web design for DRV is a welcome addition to Digital Hill's portfolio of Howe website clients. For over 14 years, Digital Hill Multimedia, Inc. has specialized in Web Design, eCommerce, SEO, Web Hosting, Social Media, Flash, 3-D Animation, Application Development, Internet Marketing and Promotion Strategies in Northern Indiana, Howe and throughout the country.
Visit www.digitalhill.com or call 888-537-0703.
DRV ~ Howe ~ Web Design ~ Website ~ Flash ~ Photo Gallery