Email Marketing for Customer Acquisition Strategy

Using Email Marketing to Acquire New Customers
Email is the "old faithful" of the digital technology world.   It is a universally used tool that everyone sits down to check at work or home.  Even as technology has advanced, email has remained.  With the growth of Smartphone's, email has only grown in use.
From a business perspective, email marketing, can be a key asset in delivering timely and focused information to customers and potential customers.  At a minimum businesses should be collecting email addresses from existing customers as a means to be able to continue to stay in contact with them and keep them updated on new products and services.
As well, email acquisition from website landing pages and more can be a key tool in expanding a customer base.  Below are key elements to a email marketing strategy.
Email Marketing Services
First, and foremost, to send bulk email to a large volume of email addresses, a business must use a email marketing software.  This is critical because these type of software tools comply with anti-spam laws and they give valuable information on what happens per email recipient when a email is sent to a large list.  Email software refers to online services such as Constant Contact, MailChimp, Delivra, AWeber and iContact.  There are numerous services to choose from.
Typically email marketing software services are subscription based.  They house your information online.  All employ mechanisms to allow tracking of a email campaigns you send so that you can see how many open the email and what links in the email they click on, and most importantly they comply with anti-spam laws by having a "email unsubscribe" or "opt-out" feature within them.
Be Sure to Avoid!
A company should never use Microsoft's Outlook, Outlook Express, or similar desktop computer software to send bulk email.  These services are not setup to handle marketing email deployment to hundreds or thousands of email addresses nor do they comply with requirements of U.S. Can-Spam Act rules.  As well, businesses should never buy lists of email addresses to try and send email to in hopes that some recipients may be interested in your product or service.  This is a great way to get all your company email blocked!
Ways to Grow and Use Email Lists
Since a business does not want to buy a email list, it must be "grown".  Below are online methods that a business can build their email list.
Add a Form to your Website – Do not simply add a Contact Form to your website, but connect that form to  a email service and add the ability for users to submit their question on your website and opt into your email list.  This adds them to your list so that you can send email marketing messages to  them in the future.
Add a Sign-up Box to your Blog – Blogs are great ways to inform, educate, and showcase your company products and services. Most blogs can offer a simple sign-up form opt-in that allows users to be added to a list to inform them of when a new blog post has been created.  They've come to your site to read your blog, so make it easy for them to get your latest blog posts right in their inbox.  This offers your business a way to cultivate a connection with the person from simply a interested party, to a regular leader, and finally to a paying customer.
Facebook Page Tab with Email Sign-up – As shown in the picture, another location to add a Email sign-up is on your company Facebook Page.  As you post news and engage your community on Facebook, you can also direct them to a tab where you can have your e-mail sign-up form.  Again, these forms like the Constant Contact one shown add those who enter to a specific email list in your account.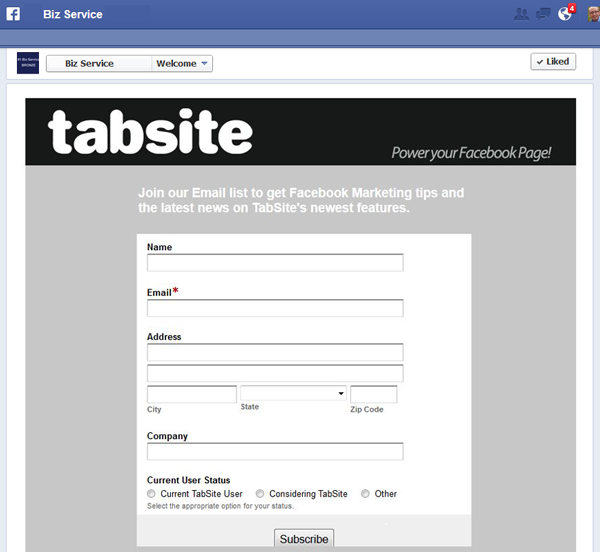 Email marketing offers powerful capabilities. It offers ability to send a email to hundreds or thousands with the ability to then see per address if they open the email and what links to specific products in the email they clicked on, email marketing allows businesses to reach their customers and warm leads, and to see what interests them.  Businesses have an opportunity to add forms on their website, blog, and places like their Facebook Page to grow their list and capture important demographic information via unique form fields .  While social media and mobile apps are the newest innovative tools, they can be combined with the old faithful email marketing to create powerful business marketing opportunities.
______________________________________
Mike Gingerich leads the Social Application division of web design company, Digital Hill Multimedia (http://www.DigitalHill.com). He is a co-founder of TabSite.com, a leader in Facebook fan page tools for businesses. TabSite offers brands the power to boost Facebook marketing with contests and promotions.  For more information on TabSite, please visit www.tabsite.com.