EverGreen RV Launches a New Web Design by Digital Hill
Digital Hill Press Release:
Evergreen RV  – Website – Web Design
Middlebury, Indiana – November 30,2010
EverGreen RV of Middlebury, Ind., near Goshen, has launched a new website designed by Digital Hill. EverGreen RV, of Middlebury and Goshen, for it's new Element RV Travel Trailer.  EverGreen RV is one of the nation's leaders in creating eco-friendly recreational vehicles. From using ComposiTek® materials to comfortable mattresses made from recycled plastic bottles, EverGreen RV is the economical way to travel.

The new Element RV web design features hassle free SEO tools for easy editing of search engine results allowing potential clients in the Middlebury and Goshen area to better find the new Evergreen RV website. The new web design also features a CMS editor allowing for easy content editing and creation of both main and sub categories, along with links to popular social media sites for Evergreen RV. And who doesn't love Flash animation? With Flash, Digital Hill was able to create a visually appealing introduction that will make other RV websites in Middlebury and Goshen jealous.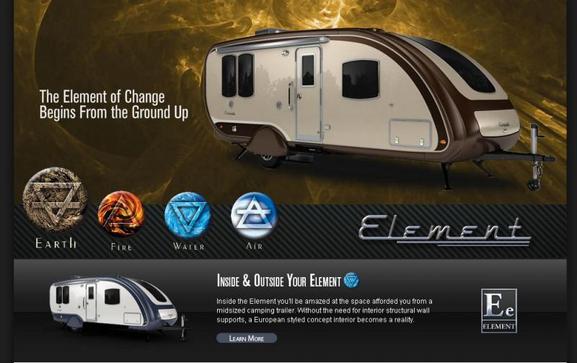 Although Evergreen RV is located in Middlebury, Ind., near Gohsen, they also serve clients nationwide and in Canada.
The new web design for Evergreen RV is a welcome addition to Digital Hill's portfolio of Middlebury and Goshen area website clients. For over 14 years, Digital Hill Multimedia, Inc. has specialized in Web Design, E-commerce, SEO, Web Hosting, Social Media, Flash, 3-D Animation, Application Development, and Internet Marketing and Promotion Strategies in Middlebury, Goshen, Northern Indiana and throughout the country. They can be contacted at 1-888-537-0703 or www.digitalhill.com.
Digital Hill Multimedia, Inc.
229 S. Main St.
Goshen, IN 46526