EverGreen RV of Elkhart County Launches New Web Design
Digital Hill Multimedia is pleased to announce the launch of a new web design for a Elkhart County business, EverGreen RV in Middlebury Indiana. Click here to see the EverGreen RV website.
This new web design has a Content Management Solution (CMS), custom photo gallery, dealer area, and video section. The new web design showcases their innovative Green RV which is green certified by TRA and uses Energy Star Rated products. These are truly green travel trailers and fifth wheels. The Ever-LiteTM eco-friendly camper trailers are built with recyclable composite materials. These green, lightweight composite materials replace non-sustainable wood products. EverGreen travel trailers and fifth wheels are more durable, longer lasting and 20 percent lighter than competing brands for easier towing and improved fuel economy.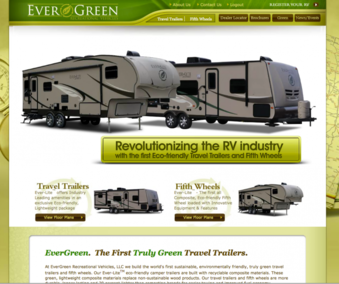 The website features a robust manager area enabling Evergreen RV to add pages, add content,  insert YouTube Videos, and easily add new galleries and images to the website.
At left is a screenshot of the Evergreen RV web design.  Evergreen RV is a recreational vehicle manufacturer located in Middlebury Indiana offering green environmentally friendly Campers.
Digital Hill Multimedia is pleased to be the local web design provider serving Elkhart, South Bend, Goshen, Middlebury, and surrounding areas.
Whether you are in Elkhart or nationwide, Digital Hill can provide professional web design and Internet Marketing services.