Facebook Evolution: Business Communication Tool to Viable Conversion Platform
By Chad H. Pollitt Internet Marketing Manager
Internet Marketing Expert

Digital Hill Multimedia, Inc.  

Conversion Strategy on Facebook


With over 400 million users, a valuation of greater than $10 billion and the recent title of most traveled place on the "Internets," Facebook has become a juggernaut.  As a result, businesses are scrambling to find their place on this most popular internet platform and have been for the last several years.  Their biggest challenge isn't setting up a Facebook Fan Page, but the deployment of a viable and measurable strategy that converts visitors into customers.

Social Media is a communication tool by its very nature and lacks a true internet marketing sales funnel that businesses can utilize to convince visitors to take action.  Facebook is no different.  These strategic sales funnels are usually reserved for the company's conversion platform, it's website.  Because of this, businesses are forced to "encourage" visitors of their Facebook Fan page to take the leap from Facebook to their website.  Internet marketing professionals have known for years that click-through rates drop significantly when people have to jump to a different website.

As a communication tool, Facebook is great for building brand awareness, growing SOV, and building relationships.  As a conversion platform, Facebook is inflexible and breaks commonly known conversion conventions.  That has been changing over the last 12 months with the proliferation of custom applications that enable businesses to utilize more gracile elements of conversion conventions.  That all changed when Digital Hill Multimedia, Inc. launched its newest Facebook application called TabSite.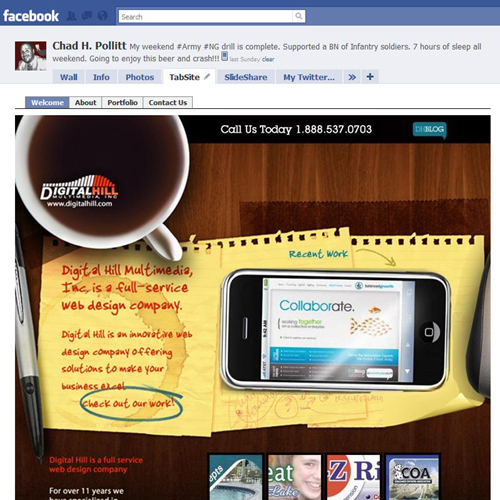 The Facebook TabSite application allows businesses to easily build a website on their Facebook Fan page.  This website can have multiple pages, a contact form and it even allows for the use of flash animation.  Companies will now have the ability to deploy a robust conversion strategy on their Facebook Fan page just like they would on their website.  With TabSite Facebook has officially evolved from a social media communication and networking tool to a robust conversion platform that businesses can take advantage of.  
It is commonly accepted that people only go to the web for two reasons: to solve a problem or to be entertained. Most companies on Facebook are in the business of solving problems. As a result, applications such as TabSite allow for businesses to present their unique value proposition utilizing the creativity of a custom website and commonly used conversion conventions. Facebook Fan pages are also indexed by Google for search. This begs the question, will websites go away with Facebook being the preferred platform for gathering information? I believe it's too early to tell, but companies like Honda have already began to push past and prospective customers to their Facebook Fan page in lue of their website. This may be the next logical evolutionary step for Facebook and social media.