Facebook TabSite is in the News!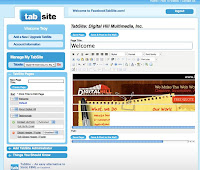 We are very proud and excited to report that Chamber member Digital Hill Multimedia has just unveiled a social media application that is the first of its kind in the world, call TabSite. In a nutshell, this new Facebook application allows businesses and individuals to build a Web site within their Facebook page. You may have already delved deeply into the uses of Facebook for your business, or you may just be testing the waters… but this is something you will want to explore. Here is what Chad Pollitt, Web Technology Consultant at Digital Hill has to say:
"We're excited to help Fort Wayne businesses take advantage of Facebook as a marketing tool. Facebook just surpassed Google as the number one destination on the Internet. Having a robust presence and strategy for Facebook is just as important as having a website today. Digital Hill's TabSite Facebook Application makes this possible and very affordable."

Facebook has the option of creating customized tabs for your business Fan Page – this new application, called TabSite, essentially makes it easy for you to create your own mini Web site within a tab on your page by providing a CMS (Content Management System) tool for you to use (rather than having to know code, which is one of the alternatives).