Facebook TabSite rolls out
Blog Post from FacebookTabSite.com
Reposted by Digital Hill Multimedia, Creators of Facebook TabSite
You asked for it …. we delivered!
New Feature roll-out — Customize your Tab Name with Facebook TabSite!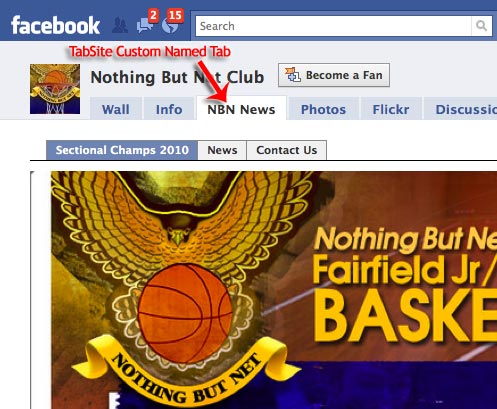 The Facebook TabSite team announces the ability to customize your Fan Page Tab name.  No longer are you limited to the default name, "TabSite," as your tab's name.  All current customers that have an existing, paid Basic, Standard or Pro TabSite package can now click "Customize Your Tab Name" in the TabSite manager to rename your tab!
Naming your tab will come standard with all new Basic, Standard or Pro packages.
As well, Free Personal Profile TabSites can choose from "Welcome" or "TabSIte" as their tab name.
And the best news…..once you choose a name it is not locked in!  You can now easily change your Facebook TabSite name at anytime to update it for your needs!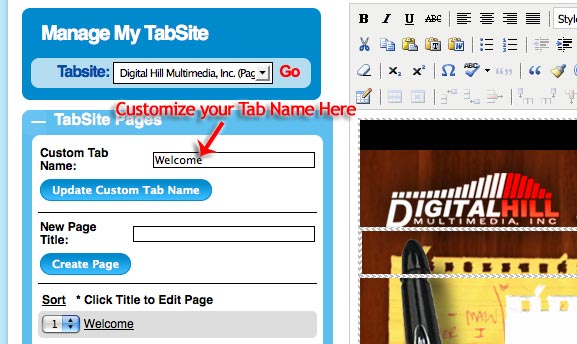 Says Facebook TabSite President and CEO Troy Rumfelt, "This has been a very big request from our existing customers, especially for those using TabSite on their Fan Page. We are excited to now offer this and feel this truly allows our customers to easily manage tab content for their Facebook Fan Pages and Personal profiles."  With Facebook TabSite you get an easy-to-use Content Management Tool and now the ability to custom name your tab (all the value of Static FBML with no programming knowledge needed!).
Click here to visit the FacebookTabSite.com Sign-up page and get your easy-to-manage custom Fan Page or profile tab today!
We are always striving to improve Facebook TabSite and make it a tool that any individual or business can easily use. Our goal is to continue to roll out new innovations for non-programmers so they can customize a Tab on their Fan Page or personal profile!  Do you have an idea that would improve Facebook TabSite? If so email us your ideas!
Facebook TabSite is a Facebook Application allowing non-programmers the ability to use a simple content and image manager to customize their Fan Page Tab or a personal profile Facebook Tab, all without needing to know FBML.  No Static FBML knowledge needed! Customize your Fan Page today!