Five Ways to Increase Brand Awareness With Social Media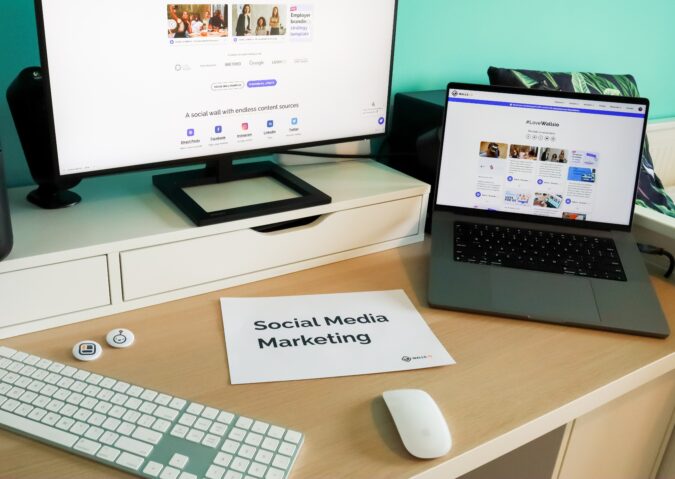 With the number of social media users worldwide estimated to reach 4.89 billion in 2023, as per statistica, social media channels are becoming the main source for people to find new businesses and learn more about familiar brands.
It presents a huge opportunity for companies to increase their brand awareness and reach more people than they would have otherwise.  
According to a recent survey, 75% of marketers claim that social media marketing has generated immense exposure and increased traffic for their brand. 
You can achieve the same results for your business by following the strategies discussed below:
1. Create Original, High-Quality Content
In today's digital era, consumers at every level come across many overwhelming content everyday. Creating engaging and valuable content is important to build a reputation among your audience and stand out from the competition.
Here's how you can ensure that your brand's content is both authentic and high-quality:
Start with a clear brand identity – what are your company's values, mission, and personality? A solid foundation ensures your content is consistent with your brand's overall message.
Use eye-catching visuals –images, videos, or graphics can help your brand stand out and capture your audience's attention.
Create content that provides value – you must create meaningful and relatable content to establish trust and credibility with your prospects. Think educational resources, behind-the-scenes content, or exclusive offers.
Pro tip: invest in digital asset management software to streamline the process of creating and sharing social media content. Several businesses swear by the Acquia digital asset management solution to store their marketing materials in one place and ensure that their social media content is consistent, on-brand, and easily accessible.   
2. Choose the Right Platforms
With so many social media platforms available, businesses must choose the ones that best suit their target audience. 
The best way to go about this is by understanding who your target audience is and what social media platforms they are most active on. 
For example, if your prospects are primarily older individuals, Facebook may be the best platform for you to use. On the other hand, if you're targeting a younger and more visually-oriented demographic, Instagram, Snapchat, and TikTok may be better suited for your brand. Platforms like LinkedIn and Twitter might be more suitable for B2B businesses.
It's important to remember that each channel has its unique audience and style, so the content you create should be tailored for each platform. Also, you should ensure that you don't post a lot of content in one single day. It can overwhelm your audience or may cause them to lose interest in your brand.
3. Leverage User-Generated Content
User-generated content (UGC) is created by your audience, such as photos and reviews. 
It is a powerful tool for building brand awareness, showing that people engage with and enjoy your product or service. Sharing UGC on your social media platforms can increase your reach and build trust with your audience.
Follow the tips below to leverage user-generated content to increase brand awareness on social media:
Run a photo contest where users submit photos of themselves using your products. The winner could receive a prize or be featured on your social media channels.
Create a branded hashtag or ask your followers to share their feedback on your products or services.
When users create and share content about your brand, thank them for their support and engage with them to build a relationship.
Monitor your website and

Google reviews

for customer testimonials. Curate and share the best on your social media channels to increase your brand's reach and engagement
4. Use Hashtags
Hashtags are an effective way to increase brand awareness and reach a wider audience.
Using hashtags makes your posts more likely to be discovered by people outside your immediate network. Hashtags also help categorize your content, making it easier for users to find.
There are five types of hashtags that you should be using in your posts.
Relevant hashtags help you reach people interested in your industry or niche. For example, if you are a fashion brand, you can use hashtags such as #fashion, #style, #ootd, #fashionista, etc.

 

Branded hashtags are unique to your brand. They can be your brand name, slogan, or specific campaign title. Using branded hashtags can help you create a sense of community around your brand and make it easier for prospects to find your content when they search for your brand name on social media.
Trending hashtags are those currently popular on social media. These hashtags are often of an ongoing popular event, holidays, culture and more.
Location-based hashtags include a city, state, or country name to attract people of a particular location. For example, if you are a restaurant in New York City, you can use hashtags such as #NYCfoodie, #NewYorkEats, #NYCrestaurants, etc.
Industry-specific hashtags can be related to a particular product, service, or trend to reach people more likely to engage with your content. For example, if you are a fitness brand, you can use hashtags such as #fitfam, #fitnessmotivation, #workout, etc.
5. Create Newsjacking Posts
Newsjacking is taking advantage of a recent news story or trend and incorporating it into your content. Doing so lets you tap into the conversation and increase your brand's visibility. 
Here are a few things to remember when creating newsjacking posts to increase your brand awareness on social media.
Be timely – jump on a story or trend before it fades away. Stay abreast of current events and trends related to your brand or industry. Set up alerts and notifications to stay on top of breaking news.
Be relevant – don't try to force a connection between a story and your brand if it doesn't make sense. Your post should add value to the conversation and showcase your brand's expertise.
Be creative – don't just regurgitate the news story or trend. Put your spin on it and add your brand's personality. Use humor, visuals, and storytelling to make your post stand out.
Be mindful – ensure the news story or trend you're newsjacking is not controversial or offensive. Avoid politics and religion, and consider how your audience will receive your post.
Get Ready to Take Your Brand Awareness Game to the Next Level on Social Media!
Social media is a phenomenal tool for increasing brand awareness. You can put your business in front of prospective buyers by posting high-quality content that resonates with your target audience on the platforms they enjoy using the most. 
Remember to post consistently with high-impact hashtags and leverage the latest trends, industry news, and UGC to set yourself apart. Also, invest in solid digital asset management software to efficiently store, manage, and distribute your marketing materials.    
Even though the social media world is constantly changing, these tips will make it easier to make a name for yourself.