Four Star Rental Launches New Website by Digital Hill
Press Release
Four Star ~ Goshen ~ Website ~ Web Design ~ Product Administration
Four Star Rental was established in Goshen in 1992 to provide rental equipment for contractors, industry, and homeowners. Please visit them at www.FourStarRental.com.
By incorporating Digital Hill's Product Administration feature, the new Four Star Rental website allows its viewers a quick glance at the equipment for rent, along with a brief description and price table. Four Star has the ability to add top-level categories, sub-categories, and category descriptions using the same Product Administration feature. Combining this with Digital Hill's Content Management System and integrated SEO tools, potential viewer are able to readily find the new Goshen area website.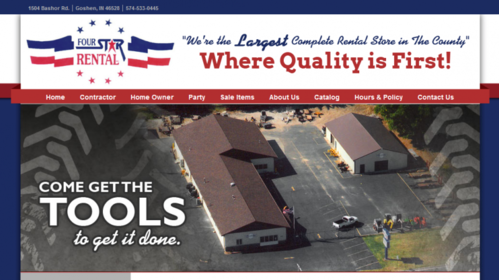 The new web design for Four Star Rental is a welcome addition to Digital Hill's portfolio of Goshen  website clients. For over 14 years, Digital Hill Multimedia, Inc. has specialized in Web Design, eCommerce, SEO, Web Hosting, Social Media, Flash, 3-D Animation, Application Development, Internet Marketing and Promotion Strategies in Goshen, Northern Indiana and throughout the country.
Visit www.digitalhill.com or call 888-537-0703.
Four Star ~ Goshen ~ Website ~ Web Design ~ Product Administration