Google Maps API Moving to Paid Service
[fusion_builder_container hundred_percent="no" equal_height_columns="no" menu_anchor="" hide_on_mobile="small-visibility,medium-visibility,large-visibility" class="" id="" background_color="" background_image="" background_position="center center" background_repeat="no-repeat" fade="no" background_parallax="none" parallax_speed="0.3″ video_mp4="" video_webm="" video_ogv="" video_url="" video_aspect_ratio="16:9″ video_loop="yes" video_mute="yes" overlay_color="" video_preview_image="" border_size="" border_color="" border_style="solid" padding_top="" padding_bottom="" padding_left="" padding_right=""][fusion_builder_row][fusion_builder_column type="1_1″ layout="1_1″ background_position="left top" background_color="" border_size="" border_color="" border_style="solid" border_position="all" spacing="yes" background_image="" background_repeat="no-repeat" padding_top="" padding_right="" padding_bottom="" padding_left="" margin_top="0px" margin_bottom="0px" class="" id="" animation_type="" animation_speed="0.3″ animation_direction="left" hide_on_mobile="small-visibility,medium-visibility,large-visibility" center_content="no" last="no" min_height="" hover_type="none" link=""][fusion_text]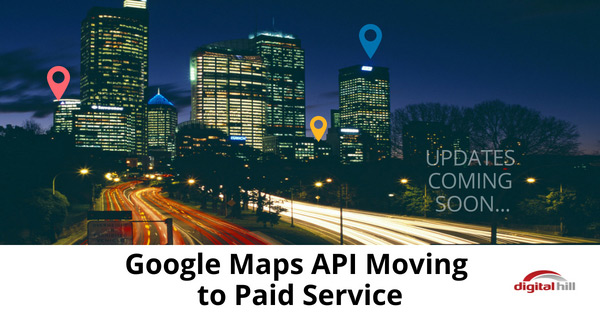 The Google Maps API is moving to an all-new system that seeks to curb overuse and implements a pay-as-you-go platform. This impacts everyone with a Google Map tool on their website.  Beginning June 11, 2018, all Google Maps API users will be required to have a unique account and unique API key for each website where usage can be tracked. As well, users will need to add a credit card to their account.
This guide will help you determine whether the changes will impact your business and what steps to take to continue using the new benefits of the Google Map API platform.
Overview of the Google Map API
Back in 2016, Google Maps announced they would stop supporting keyless usage. Stated clearly, requests made without an API key or client ID would not be processed. This change comes into effect on June 11, 2018.
From that date on, if your website makes a keyless API call to either the Maps API or Street View API, you'll be directed to a low-resolution map watermarked with the words "for development purposes only." Meanwhile, keyless calls to Directions API, Distance API, Maps Static API, Places API, Geo-location API, Geo-coding API, and Time Zone API will return an error.
To avoid business interruptions and having a broken map on your website, all businesses who use Google Maps need to visit the Google Maps Platform to create a billing account and generate an API key for transactions.  This is something we are reaching out to our clients to help with since this requires a website update.
How to Continue With Google Maps
Google Maps users currently fall into one of three categories: there are customers with an API key, there are customers who don't know if they have an API key, and then there are those who don't have a key and have been knowingly making API calls without a key. Here's what you need to do depending on where you fall.
If you have an API key
For Standard Plan customers, check the Transition Tool. There you'll learn all the changes happening to Maps APIs in your projects and get notifications associated with any adjustments you need to make.
Again, the service will largely be free for all yet, but Google tracks use and if you go over their 28,000 connections and $200 credit in any month, they would charge you for the overage.  In our reviews, it looks like only large traffic maps have potential to go over this.
If you're not sure if you have an API key
Use the Transition Tool to find out if your projects have valid API keys. For Chrome users, you can also install and use the Maps API Checker Extension to check for valid API keys. Alternatively, visit the Maps user guide to find a step-by-step guide to check the validity of your API keys manually.
You can also use the Transition Tool to verify if your project has an active billing account.  Or you can contact your Account manager and we can let you know. Again, we are proactively reaching out to all our clients who have a Google Map and need to make updates.
If you've been working without an API key
You won't be able to use the service for free anymore starting June 11, 2018. To avoid business interruptions, visit the Google Maps Platform Get Started page. Create a billing account, and sign up for the $200 a month free credit plan that allows you to use Maps, Routes, and Places.  Again, you would need the API key setup on your website and we can assist with this.
Learn More
Feel free to check the pricing and billing changes as well as product updates as a move to the new Google Maps Platform.
As always, the web changes quickly.  We have to roll with the adjustments and adapt as they happen.  Google is trying to curb excessive use of their system but it comes closer to now being a paid service.  Most sites will not have to ever pay but Google requires the API Key setup and billing setup to ensure use going forward.
Have questions?  Reach out to us!
[/fusion_text][/fusion_builder_column][/fusion_builder_row][/fusion_builder_container]