Great New App for Facebook Pages from TabSite
Our team at TabSite continues to roll-out innovative products and apps for Facebook pages!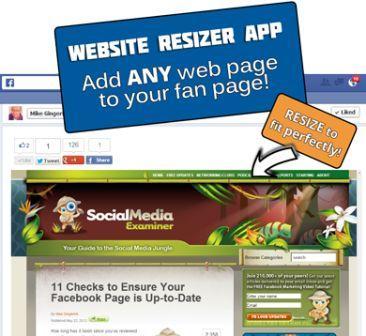 TabSite today announced a new custom social engagement application,Website ReSizer, available to businesses and organizations of all sizes.
The Website ReSizer Facebook app a solution for every company that spent money investing in their website and then wished they had the same functionality on their Facebook page. Now you can! Simply add the website to your fan page tab, resize to your liking so it all fits nicely, and publish!
No more gaudy iframe scroll bars! Most websites are at least 1000 pixels wide while Facebook tabs maximum width is 810 pixels. This difference led to iframed sites in tabs that had bad scroll bars and poor user experience. NO MORE!
Now, add any web page, shopping cart, landing page, blog, etc. to a Facebook tab and use the TabSite Website ReSizer app to make it fit! Allow fans to shop from your website right on Facebook! Wow!
Website ReSizer has many powerful uses:
e-commerce to your Facebook page tab
Product pages on tabs for purchase/download of a product
Restaurants and Hotels can add their Reservations web page easily to a tab on their fan page!
Website Event Registrations on your website can be added to your fan page
ANYTHING on your website, blog, or a page where you sell products (Amazon, eBay, Mary Kay) can be added!
View more details on the TabSite Blog.